by: Rene Bell Adams
RBA Advertising
Ormond Beach Dr. Ashley Lentz returned last month from a life-changing trip to San Pedro Sula, Honduras, where she runs a cleft mission twice a year.
The team consists of surgeons, anesthesiologists, nurses, technicians and residents. They perform between 35 and 40 surgeries each trip to help improve the quality of life for children and adults that do not have access to healthcare.
Due to the COVID-19 virus, the first trip of 2021 was even more critical to the families and the children the team were able to impact.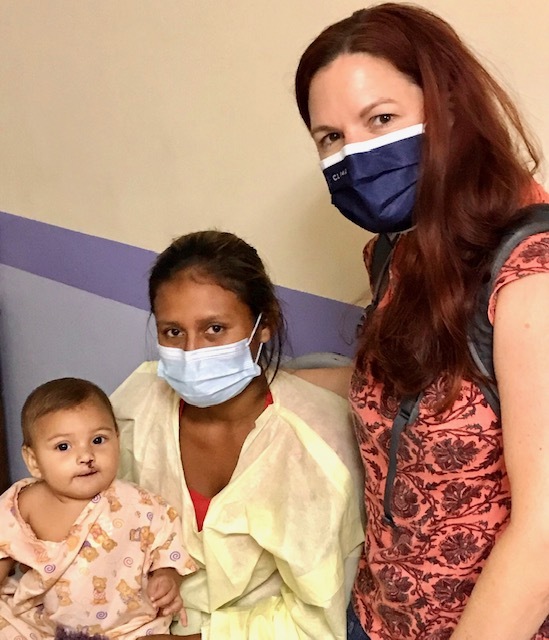 "It is a privilege to perform life-changing surgery for the Honduran children and their families. The ability to have a positive impact on so many lives is a gift unto itself and brings tremendous meaning to our team of professionals," said Lentz, who is a board-certified plastic and reconstructive surgeon and current President of Interplast South.
Cleft lip and palates are among the most common birth defects of children born in Central America. They are an incomplete formation of the upper lip or roof of the mouth. A child can be born with one or both of these conditions. Honduras is the second poorest country in Central America and one of the top 10 poorest countries in the Western Hemisphere.
Lentz is an active member of the Florida Cleft Palate Association and served as president of that organization from 2014 to 2015. She was also the co-director of the Craniofacial Clinic at the University of Florida prior to entering private practice in Volusia County. Her trips to Honduras allow her to continue her cleft work and to work with the plastic surgery and oral surgery residents at the University of Florida. Lentz says that teaching is a strong component of the trip, where surgical residents and medical students have the opportunity to learn the challenges and rewards of performing mission work in foreign countries.
Interplast South is a not-for-profit charity that finances one or two medical missions per year to Honduras. Each trip costs approximately $20,000. With the support of donors, the Ruth Paz Foundation, Smile Train and volunteers, a team of 12 to 15 health care professionals travels to Honduras to operate on patients with cleft lip, cleft palate and any other emergent surgical problem.
"Our focus is to repair clefts; however, we are always willing to perform additional surgery that is needed during our mission," Lentz said. "It is an honor to carry on the tradition of Interplast South as the lead surgeon. There is a long tradition of this mission work passing from surgical mentor down to surgical mentee since it first began in 1969. I inherited the responsibility from my mentor, Dr. Brent Seagle. Many of the surgeons who currently participate are my former surgical residents who went on to complete Craniofacial Fellowships after Plastic Surgery Residency. It gives me great pride to carry on the Interplast South tradition."