The U.S. 1-Interstate 95 interchange in Ormond Beach may be redesigned as a "diverging diamond" interchange. 
The Florida Department of Transportation says the redesign, expected to cost $215.4 million overall, will make the interchange safer and more capable of accommodating heavier traffic.
FDOT identified a diverging diamond as its preferred redesign option on March 29 during the first of two public hearings as part of FDOT's ongoing Project Development and Environment Study. A second public meeting will be held in person at 6 p.m. Thursday, March 30, at The Chapel, located at 1805 N. U.S. 1.
According to FDOT, a diverging diamond interchange design would be safer because vehicles turning left would not have to cross opposing traffic and drivers would be less likely to enter ramps in the wrong direction. The redesign would also feature improvements for pedestrians and bicyclists, such as shared-use paths and signal-controlled crossings, and could accommodate heavier traffic with fewer delays, according to FDOT.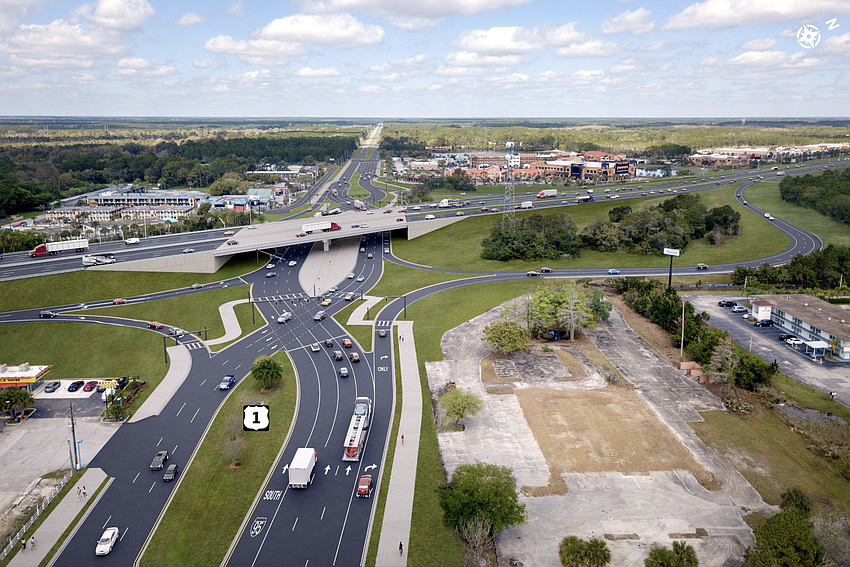 "This (diverging diamond) configuration improves traffic flow while minimizing the number of potential crash locations and the potential severity of those crashes," FDOT stated in its presentation.
FDOT would need to acquire 9.7 acres of rights-of-way for the reconfiguration, affecting 18 parcels of land and 15 property owners. 
Two businesses — the Sunoco gas station and Florida Citrus World at 1576 N. U.S. 1 — would be displaced. 
The project would also change the driveway access for seven businesses and change the median access for 10 businesses, including McDonalds and Dollar General.
FDOT anticipates impacting 2.4 acres of floodplain and 1.5 acres of wetlands, and stated in its presentation that it would provide 3.9 acres of floodplain compensation sites. 
FDOT began studying the interchange in 2021. 
The interchange, designed in the early 1960s, still has some original elements — such as median openings, tight loop ramps and driveway connections — which no longer meet current spacing standards.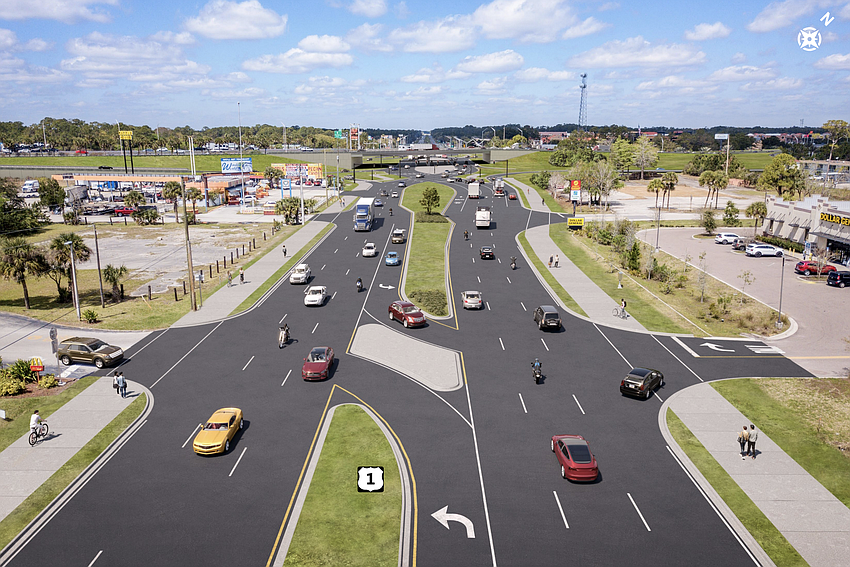 FDOT predicts that traffic will increase by over 40% on I-95 and will more than double on U.S. 1 by 2050. Since the interchange and the surrounding area are a hot spot for crashes, FDOT decided that the interchange could not stay in its current condition. 
"As the approved-for-mixed-use developments within the area, like Ormond Crossings and Plantation, Oaks are built out, thousands of new vehicles will be added to the local roadway network, many of which will use the interchange on a daily basis. And with this, congestion will intensify," FDOT stated.
In addition to the interchange redesign, FDOT is planning to widen U.S. 1 from four to six lanes and replace the I-95 overpasses over U.S. 1 and the nearby Florida East Coast railroad. 
The next phase of the project, design, is expected to cost $3.3 million and is already funded. The construction phase remains unfunded.
To learn more or view the presentation, visit https://www.cflroads.com/project/419772-2.