Vanessa DeMatteis is a little embarrassed by all of the attention she's received.
DeMatteis, a food services employee at Flagler Palm Coast High School, donated a bicycle to a student who volunteers in the cafeteria before school.
Parker Dixon does not live far from school. But he has relied on his bicycle for transportation to and from school for nearly two years.
In late February, a vehicle hit his bike while he was riding to school in the early morning darkness. He was not injured, but his bike was damaged beyond repair.
"He hit my bike after giving me permission to move over," Dixon said of the driver. "I flipped and I almost hit my head. The chain got messed up."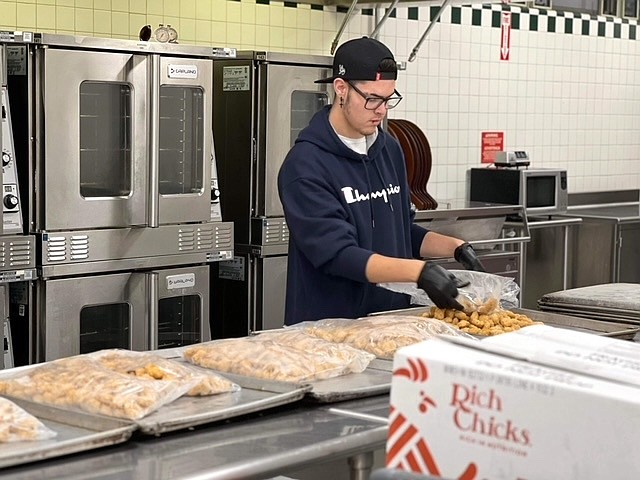 Audrey Dixon, Parker's mother, said they couldn't fix the bike, and for the next two weeks, Parker walked to school.
Jodi Lane, the manager of the FPC Bulldog Café, started taking up a collection to buy Parker Dixon a new bike. DeMatteis told her there was no need for that. She had an extra bike at home she could bring in.
"I happened to have a couple of bikes in my garage that weren't being used," DeMatteis said.
DeMatteis had never even met Dixon. She arrives at school at 8:15 a.m. By that time, Dixon is in class. She met him the day she brought in the bike. A picture of them together with the bike got distributed on social media.
"I'm kind of embarrassed by all of this," she said. "I meant nothing to come of this. He's a sweet kid. I'm glad he has transportation. That's what's important."
Dixon has been volunteering with food services since Feb. 4, he said, adding that he had also volunteered in the cafeteria at his old school in Alabama when he was a freshman.
Now a senior, Dixon will continue to work in the Bulldog Cafe this summer as a sub, and hopefully that will lead to a full-time job in the fall, Lane said.
"Parker is a really good kid, and it seems like this is what he wants to do," Lane said. "Everyone enjoys having him here."
DeMatteis said it was actually her personal bike that she gave to Dixon.
"It's OK," she said. "I don't need a bike."