Robert Paxia is preparing for his second season as Flagler Palm Coast's head football coach. Paxia talked about his team's summer activities heading into the 2022 season.
How has this summer been different?
This summer has been less about trying to learn the kids and less about trying to get a handle on everything going on. It's been more about getting better and getting stronger.
What are some of the things the team has been doing?
We've done a couple of different things. We participated in the Florida State 7 on 7. We played in the (Florida High School 7v7 Championship in the Villages). And then we went to team a camp. And we've had a bunch of kids that are going to camps and visiting schools and traveling across the country.
Some coaches like 7 on 7s. Some don't. What's your view?
I think that if you can find people who are willing to run their real stuff that you're going to see in the game, then I think that they can be beneficial. The issue is when you get people that are lining up and running stuff that you probably aren't going to see. Then I think it becomes, not useless, but not important.
Is that the case on both sides of the ball?
Yeah, absolutely. You see unrealistic offenses and unrealistic defenses all the time. You see teams line up in empty (backfield) every single play, and then you watch them in the regular season and they're double tight (end), two back, and you're like, you just lined up in empty the entire summer. There's no correlation. I think that's the big part, find people that are willing to correlate their regular season stuff to the 7 on 7 stuff. And it's not about winning the 7 on 7, it's about getting better.
What was the best thing to come out of the 7 on 7s?
"This summer has been less about trying to learn the kids and less about trying to get a handle on everything going on. ... I feel like I have a lot better handle, a lot better pulse on our team. We have some really good, young leadership that I'm really excited about."

— ROBERT PAXIA
At Florida State, we played some really, really good teams. We played Bainbridge (Georgia), who won a state championship a couple years ago. We saw Ocala Vanguard who's really, really good. Almost all of our 7 on 7s have been decided by one score or less, which is really good for us, because we're just young and in some spots. So, just having those guys go out and compete is all we're looking for.
You also had some of the top speeds tracked at the FHS 7v7?
Yes, it's the Catapault Tracking System which most colleges use. They put a tiny GPS on the kids and then they track their top speeds running. Gerod Tolbert was the fastest kid. He ran 22.29 (mph). Rodney (Hill) ran 21.72 and D.J. (Murray) ran 21.71.
What's your philosophy about summer workouts and competitions?
It's about finding a balance between 7 on 7, weight room, team camps where you're getting into some padded situational stuff. You don't want to burn out. But you also want to make sure that you're prepared for your year. So it's about finding those fine lines. We didn't do Florida State last year. We did it this year just because we've got some kids that are being recruited by Florida State. We wanted to put those kids on their campus. Putting kids (in college) is one of my top priorities.
How do you feel heading into the season compared to last year?
I feel like I have a lot better handle, a lot better pulse on our team. We have some really good, young leadership that I'm really excited about. So, we're excited about this year. We return a l
ot of kids who played a lot at the end of the year.
Which players have made the most strides since last season?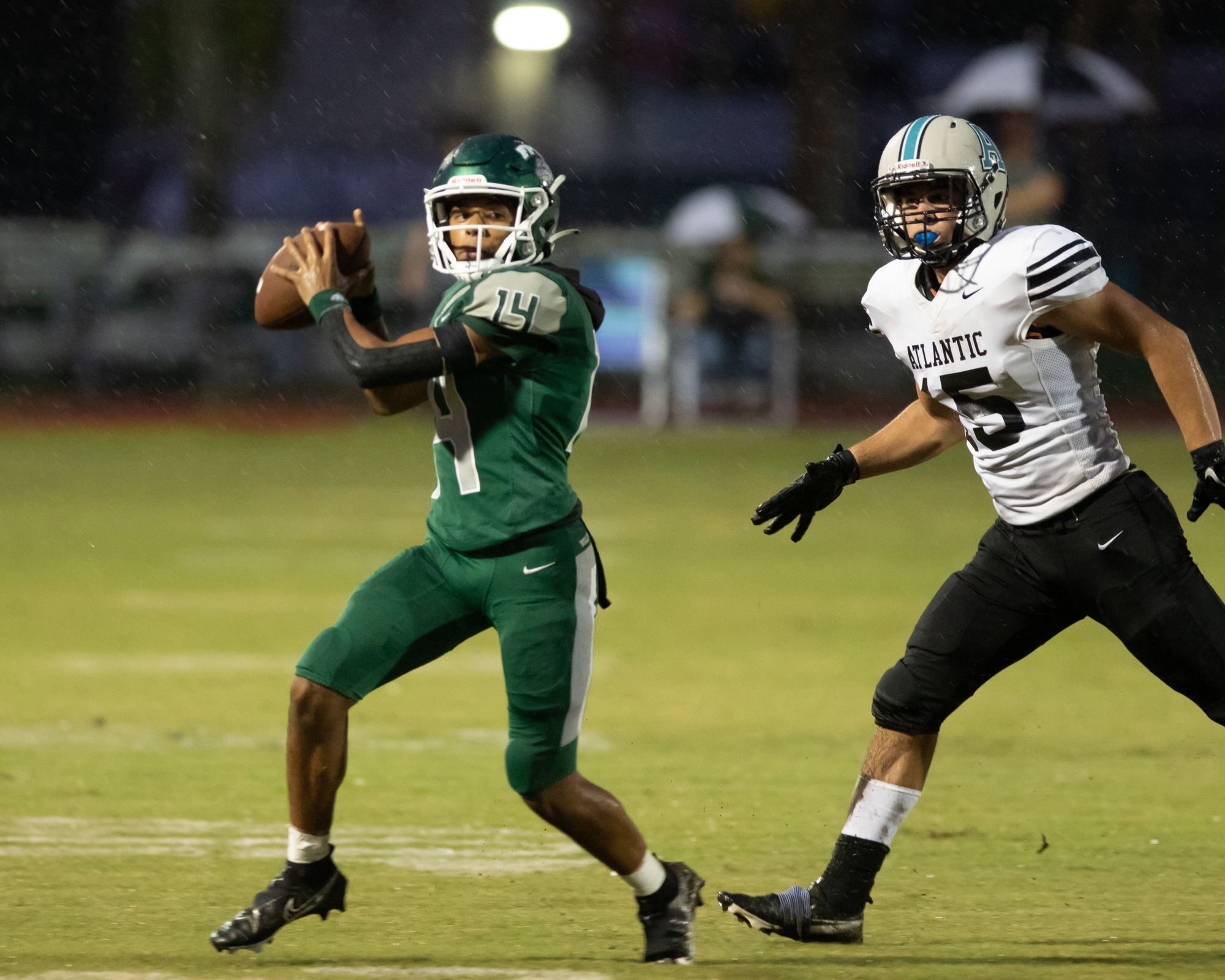 The improvement and maturation of (quarterback D.J. Murray) is going to be instrumental to our success. Outside of him, some guys that have had some some some outstanding offseason stuff, Cody Newton, he's a wide receiver. He broke his collarbone last year, a guy we were really high on. It was unfortunate. We're super excited about him this year. We're really excited about our three senior returning offensive linemen, Kobe Murphy, Jake Blumengarten and Drew Droste. All three of those guys have taken another step in their game, which we're really, really excited about.
And then, defensively, guys like (linebackers) Ashton (Bracewell) and (Rodney Hill), who had high grade summers. And Ethan Laupepa had a great offseason, and T.J. Johnson. Laupepa started two or threes games at offensive line for us last year, and now he's a starter on the D line for us. We're super excited. He's done a phenomenal job all year. He's just going to be a junior. T.J. Johnson has kind of gone from a safety to a hybrid outside linebacker, and he's done a phenomenal job. He's gotten better every single day, a kid that ran track, lifted in the weight room since January, has does a phenomenal job in the classroom. It's easy to tout the highly recruited guys. Some of the the unsung heroes will be the difference in our season.
What's the biggest difference with Murray this year?
There's no whole teaching anymore for him. What I mean by that is there's no like, 'Hey, this is cover four. This is how you determine that it's cover four.'  'This is the play that we're calling, and these are the routes.' You're not teaching that stuff anymore. You're teaching the next step into the progression. For him, that's where the biggest difference is, just command, control of the offense. He played a lot for us last year, so you know he's a strong voice and a strong presence on our team. We're really excited about him.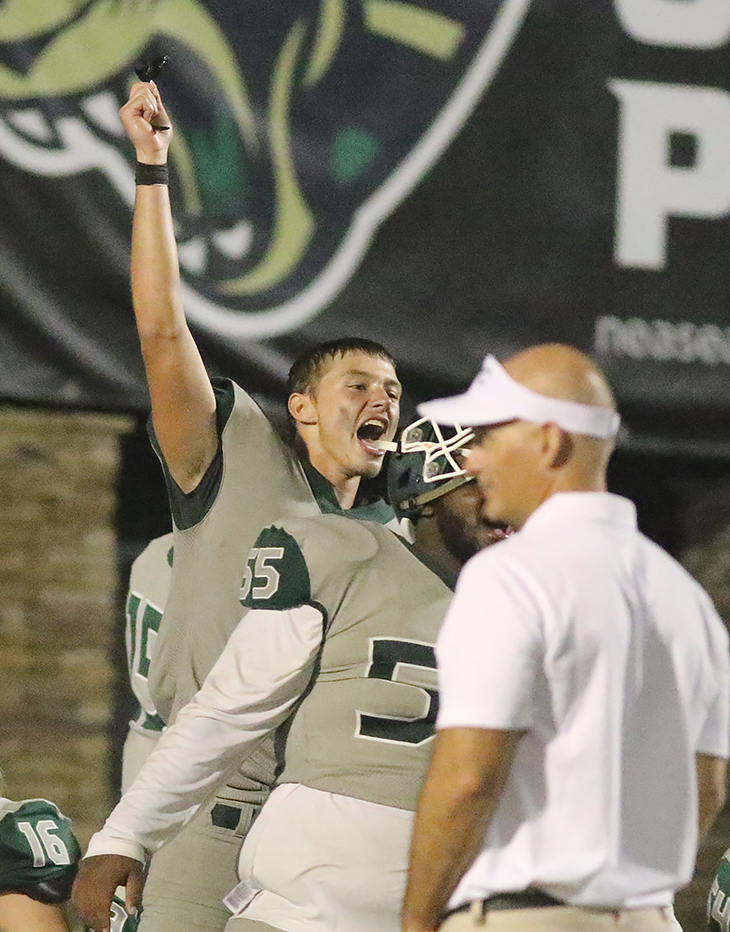 Any recruiting news?
Ashton (Bracewell) visited a bunch of schools. I think he's getting close to making a decision. I know he really likes Toledo. He really liked his visit to Navy. Those two have done the best job recruiting him. FAU really likes him. and he really likes FAU. Florida State wants to watch his senior film. There's a lot of intrigue with him because he's 6-4, 215 pounds now. We moved him to inside linebacker, so everybody's trying to figure out what he's going to look like. He had a great spring.
We've got a bunch of kids that are getting looked at by some FCS schools, as far as the 2023 group. And then in the '24 group, Rodney (Hill), (tight end Daniel) DeFalco and Murray went on a North Carolina tour, and they hit North Carolina, N.C. State and Wake Forest. And we visited Florida State in the spring, Florida in the spring, we visited USF in the spring. We took a bunch of different kids to those visits. So, we're just just trying to put our kids on college campuses and trying to put them in front of coaches. Jake Blumengarten has a preferred walk-on (offer) to Georgia Southern. He'd be a great fit there.
What stands out about your schedule this season?
We got a three game stretch in the middle of the year with our two district games and a really good Eau Gallie team. We're gonna find out right there. That's going to be humongous. We have Mainland (Sept. 2) and Creek (Sept. 9). Those are big tests. But we are at Ponte Vedra (Sept. 30) and we get Eau Gallie (Oct. 7) and Nease (Oct. 14) at home. We're in a three-team district with us, Nease and Ponte Vedra. So it's winner gets in and everybody else goes into the at-large pool. So, we've got to win those three.