Alexandra Gazzoli walks with her bag past her opponents' golf balls, stands near her own ball in the fairway and pecks on her phone waiting for the other two golfers in her group to catch up.
You could call the Matanzas High School golfer a ringer.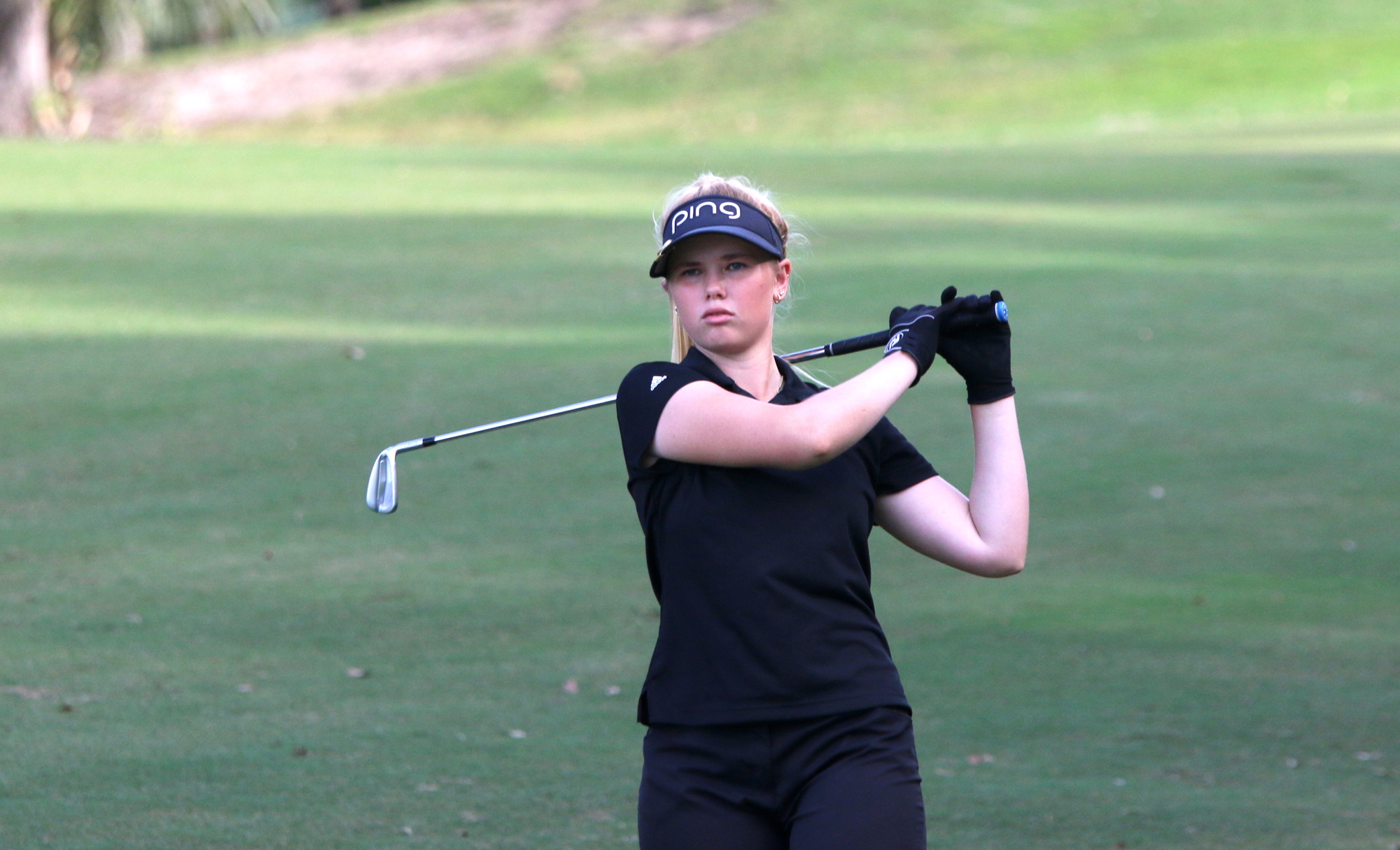 "She drives the ball at least 260 yards and is pretty accurate," said Matanzas girls golf coach Brandie Alred. "Her short game's on point too."
Gazzoli doesn't reach for her driver too often in high school matches. The Pirates play from the gold tees at Palm Harbor Golf Club with a total length of 4,945 yards. Half of the par-4s are under 260 yards.
When the sophomore competes in American Junior Golf Association tournaments, the course lengths are about 6,000 to 6,200 yards.
"It's completely different," she said of the high school matches. "I have to think differently. I can't always hit driver. It tests a different part of my game."
Gazzoli comes from a golf family. She first swung a golf club at 2 years old. She began playing tournaments at age 8. At 12, she qualified for the Drive, Chip and Putt National Finals at Augusta National, which she says is even more beautiful than she thought.
In July, she competed in the USGA's U.S. Girls Junior Championships where she missed the cut for match play in a sudden-death playoff.
As a high school freshman last year, Gazzoli tied for third in the Class 2A state championships and helped the Pirates win their third consecutive district championship and place 10th at state.
This is a rebuilding year for Matanzas. Gazzoli and freshman Zoe Alred, Coach Alred's daughter, are the team's Nos. 1 and 2 players. Junior Emma Markese is the only other returning golfer.
"Everyone else is brand new to golf," Brandie Alred said.
The Pirates improved to 6-4 on the season with wins over Menendez and Tocoi Creek on Oct. 7 at Palm Harbor. Gazzoli shot 1-over 37, which is right around her season average.
"I hit the ball well. My putting wasn't there," she said.
A return trip for the Pirates to the state championships is far from guaranteed, but Gazzoli is confident she won't be competing at state next month as an individual qualifier.
"I think we can make it to states," she said. "I have faith."
Being part of a team is why Gazzoli decided to play high school golf last year, adding to her already crowded tournament schedule.
"Golf is an individual sport," she said. "Being around other people doing the same thing as you and going to different tournaments is fun and different. You're not just doing it for yourself. You don't want to let your teammates down."
The Florida high school state championships are strewn with tournament golfers who enjoy having teammates for the first time.
"Golf is a lonely sport," Brandie Alred said. "I think (playing with the Pirates) is helping Alexandra's game. It teaches her to relax and enjoy her game."
The social aspect is probably what Gazzoli, who is in virtual school, enjoys most.
"It's a big reason," she said. "Being in virtual school and also playing golf, I don't see anybody at all."
Zoe Alred said Gazzoli shares her putting and chipping drills with the team.
"We've had a couple of good golfers who have gone on to play college golf," said Brandie Alred, who is in her sixth season as the Pirates' coach. "But I don't think we'll ever see another like Alexandra."