Joan Wheeler always knew she wanted to be a teacher, but at 11 years old, that wish was further solidified, and molded, when she met Johnnie.
One afternoon, she recalled that a neighbor stopped by to chat with her mother. The family lived in a big house down the street, and Wheeler knew their son went to a special school. That afternoon, she sat in the kitchen and listened as her mother and the neighbor spoke about her son Johnnie, who desperately wanted to learn how to play piano.
Johnnie was a few years older than Wheeler, and was diagnosed with Down syndrome. No piano teachers would take him as a student, and the neighbor asked if Wheeler would be willing to teach him.
"My mother thought for a moment, and responded, 'That would be so good for her, yes, she'll do it,'" Wheeler said. "I was unsure of myself, but, twice a week, for $2, I taught Johnnie to play the piano."
Johnnie went on to play "Pomp and Circumstance" at his own graduation, played at church and even performed at the Governor's Mansion in Richmond, Virginia. 
It's because of Johnnie that Wheeler not only pursued teaching, but majored in special education. The two are still friends after 50 years, and Johnnie still plays piano.
Wheeler, who is Pathways Elementary Teacher of the Year, is in her 40th year of teaching. She teaches a blended preschool class, where her students are a mix of children with and without disabilities. Some are enrolled in the state's voluntary pre-kindergarten program, others are children with disabilities who have individualized education programs, and some are developing 3-year-old kids. She said she could not do her job without the help of her paraprofessionals, Marylee Alfredson and Cindi Dawley.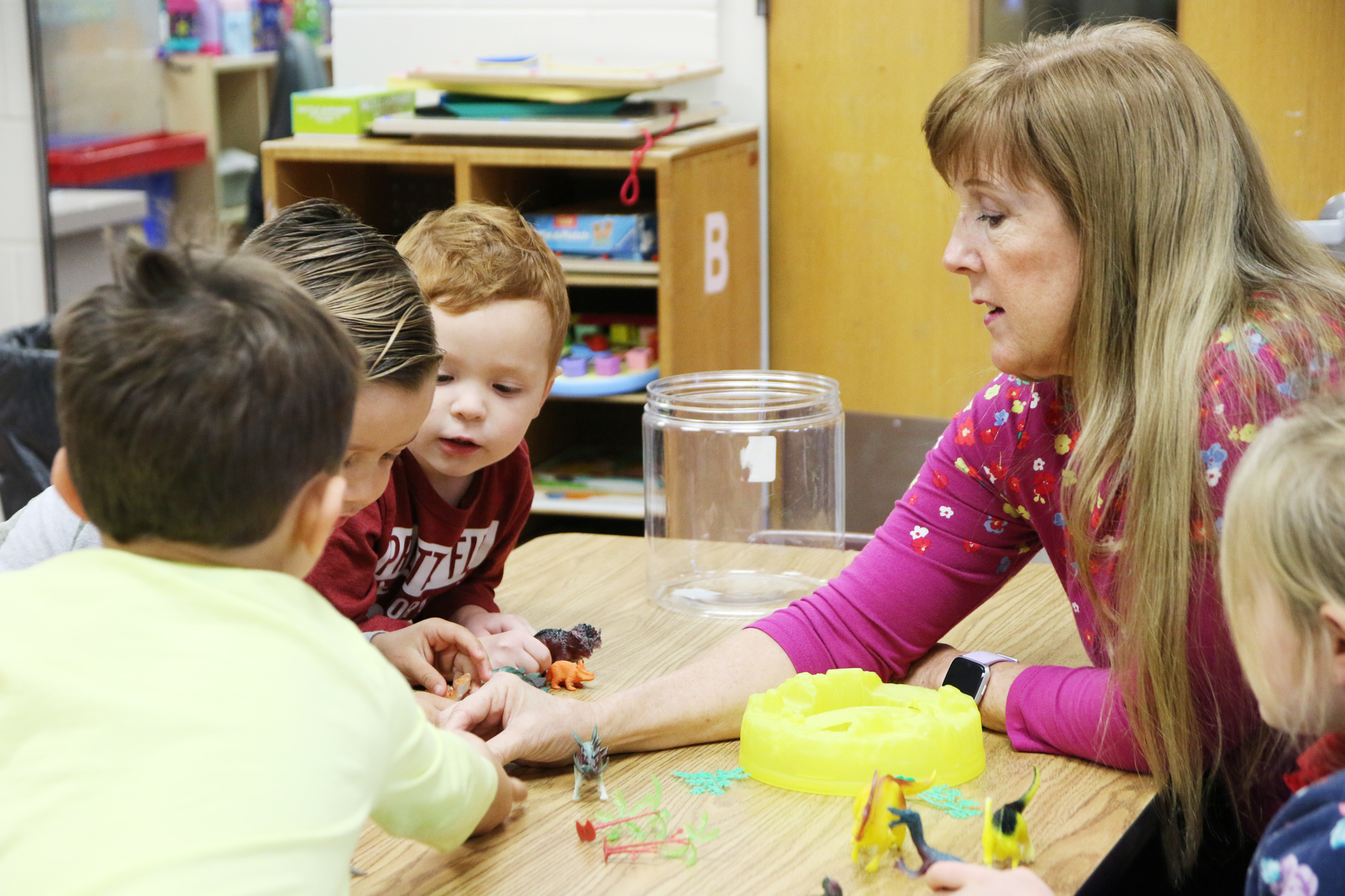 Wheeler is also one of the five finalists for Volusia County School District's 2022-2023 Teacher of the Year. 
"I'm honored to be nominated, especially by my peers," Wheeler said. "Every day I see the love and dedication of teachers throughout Pathways Elementary school, and to know they chose me as their Teacher of the Year is humbling."
She began her education career in Smithfield, Virginia in 1982, but her life took a turn on Sept. 11, 2001. Wheeler was on a playground in Alexandria, Virginia, a few miles away from the Pentagon when she spotted a plane flying overhead, "so low that three of my non-verbal students pointed and signed 'airplane,'" she recalled. Then, they heard the crash.
Her husband was a paramedic for the Alexandria Fire Department and spent the next 15 days working the crash site at The Pentagon. 
"Other local tragedies with personal connections followed; the trauma took a toll on both of us," Wheeler said. "After working 24 years in Virginia in various Early Childhood Special Education settings, it was time for a change. We chose Ormond Beach, Florida as our new home, and we've never regretted the decision."
Wheeler has been at Pathways Elementary for 16 years now. She loves being able to build relationships with her students, their families and her coworkers. One of the greatest rewards, she said, is helping the class to form a community that looks out for each other, and one that both learns and grows together.
"This has been a challenging year, and they're working harder than ever putting in extra hours, tutoring after school, and persevering in every way for each of their students," Wheeler said. "Representing such a professional and dedicated group is a daunting task. But I will do my best to make them proud."