Volusia County officials are urging residents and visitors to brace themselves for Hurricane Dorian, which is expected to make landfall on Florida's East Coast around Monday afternoon, according to the latest advisory by the National Hurricane Center. 
Safety is the number one priority, said County Manager George Recktenwald at a press conference on Thursday, Aug. 29. All county and municipal offices will be closed Monday and Tuesday, county libraries will close Sunday and all coastal parks and beach ramps will close Friday night. The county has issued a local state of emergency, though no mandatory evacuation of the beachside, low-lying areas and mobile home parks has been announced yet.
However, residents should expect that evacuation order tomorrow, Friday. 
"This is a dangerous storm with a lot of unknowns, but as we've seen in the past, these storms can turn," Recktenwald said. "They can intensify, and this has been a particularly hard storm to predict. You must be prepared for the worst."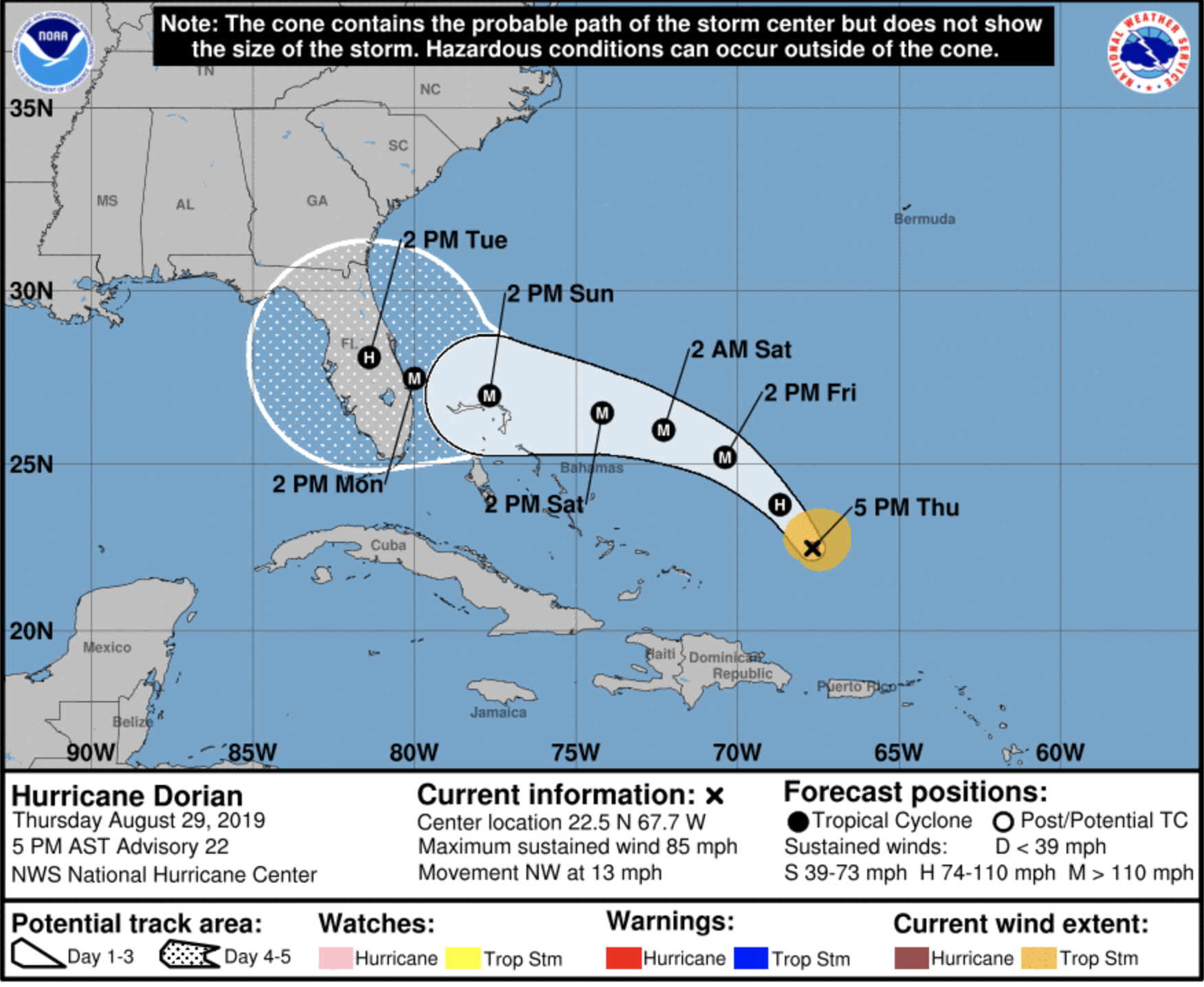 County Council Chair Ed Kelley said that, as weather conditions deteriorate, bridges will be closed for eastbound traffic, and won't be reopened until the Florida Department of Transportation deems them safe after the hurricane. He also warned residents against going to the beach to watch the storm roll in.
"Heed the warnings," Kelley said. "Pay attention to the weather. Take shelter before the tropical storm winds begin to approach our area. Hunker down until the all clear is given."
County Emergency Management Director Jim Judge said 10-15 inches of rain is expected for areas in the path of the storm, as well as flooding. Residents should expect tropical storm-force winds, and possibly a category 1 strike if it moves higher up the Florida peninsula. Hurricane Dorian could hit Florida's East Coast as a category 3 or 4. 
"It is a significantly deadly, dangerous hurricane," Judge said.
Sheriff Mike Chitwood said this is the time to make final preparations for the hurricane. He also said that crimes comitted during a state of emergency carry enhanced penalties. 
"While there's a lot of uncertainty facing us, it's important to really be prepared for the worst and hope for the best," Chitwood said.
For information on shelters, visit https://www.volusia.org/services/public-protection/emergency-management/pin/