The purpose of the Flagler County School Board's special meeting on Thursday, Oct. 26, was to vote on a possible mutual termination agreement with Board Attorney Kristy Gavin. As it turned out, there was no agreement. Not even close.
With three School Board members determined to terminate Gavin's contract, which does not expire until June 30, 2025, the board debated for over two hours how it can do that while protecting the school district from a potential lawsuit.
Gavin, who ironically was at the meeting to provide legal advice to the board as usual, indicated she would be willing to serve out the remainder of her contract as the district's attorney. Currently, the district does not have its own attorney, and Gavin serves both roles.
At least two of the three board members who want to terminate Gavin's contract — Will Furry and Sally Hunt — have stated they would prefer the district to cut all ties with Gavin. After a meeting that got heated at times, the board agreed to Colleen Conklin's motion to allow Superintendent LaShakia Moore to negotiate an agreement with Gavin to act as the district's counsel, and if an agreement cannot be reached, Gavin's contract would be terminated within 60 days.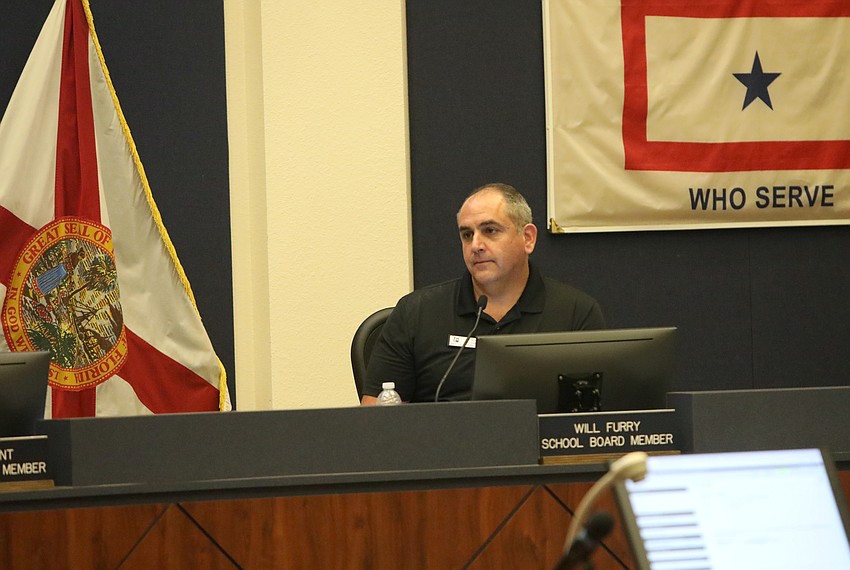 Furry was the only board member among the five to vote against the motion. He had been tasked with negotiating an agreement with Gavin ahead of the special meeting. He said his one-and-a-half-hour meeting with Gavin was unproductive. He said Gavin was combative and condescending and only willing to discuss a transition to becoming the district's attorney.
Gavin then spoke, saying her meeting with Furry started with the board member saying he was there to terminate her contract.
"The choices that were given to me were either to terminate my contract with an agreement or I would be terminated without an agreement," Gavin said.
Gavin said she told Furry that it would be "essential to have an actuary to know the dollar amounts that we were discussing. He said that was unnecessary. It wasn't needed. … He wanted to terminate my agreement and failed to provide me any offer of compensation."
Furry said, "I was not there to make her an offer."
Christy Chong, the third board member who is in favor of terminating Gavin's contract, accepted Conklin's motion with the 60-day stipulation. The board agreed it would need a transition period to replace Gavin, possibly with an outside law firm representing the board.
Hunt said she was inclined to vote in favor of terminating the contract at the special meeting. She said she has been advised by her own counsel that the board has just cause to fire Gavin based on misconduct and dereliction of duty.
Board Chair Cheryl Massaro said, "Well, I spoke to counsel about your just cause and they said, 'You're absolutely crazy.'"
Hunt said she has continued to be discredited and disparaged by Gavin in the media, specifically alluding to the FlaglerLive news site. She said the articles add to the dysfunction of the school district.
"There is a reason why we are making national headlines," Hunt said. "There's a reason that we just lost $710,000, or whatever it is, ($719,583 in a cybercrime scheme). There are reasons that these things are happening. It is because of dysfunction."
Conklin interrupted at that point.
Is that what this is about? Is this about articles in the newspaper about you?"
— COLLEEN CONKLIN with a question to Sally Hunt.
"Is that what this is about?" Conklin asked. "Is this about articles in the newspaper about you?"
Hunt said the issue is not black and white.
"Attorney Gavin can be an incredibly hard worker," Hunt said. "She could have done many great things for this district and still overall be unfit for the role. It is not black and white. I can bring up the relationship with a local blogger and that is one of many things."
Gavin, who has been the board's attorney for 17 years, has indicated she plans to retire from the district after her contract runs out in 18 months.
According to her contract, Gavin can challenge a just cause finding with a petition that would be referred to the Division of Administrative Hearings for the appointment of an administrative law judge. Should the administrative law judge determine that just cause did not exist, Gavin would be paid 12 weeks of base salary plus accrued sick leave and vacation but not benefits.
While Furry, Hunt and Chong have pointed out this article in the contract as a protection for the district, Massaro said it doesn't take into consideration the possibility of a civil suit that she said could cost the district over $500,000 when all of Gavin's compensation, benefits and retirement pay are added up.
While Chong prevented Massaro and Conklin twice from asking Moore if she would be willing to have a discussion about hiring Gavin in a district role, the superintendent was eventually allowed to answer and said she would be amenable to a conversation to move Gavin to the district side if the board agrees.
But Moore noted that even if the district does agree to the new role, the board would ultimately have to approve it.
In that situation, Chong would provide the swing vote, with Hunt and Furry indicating they would not approve any role for Gavin.
"If I feel there is misconduct and dereliction of duty, how can I possibly support that person for that role?" Hunt asked.
Moore suggested early in the meeting that the board hire outside counsel before they make a decision and possibly put a financial burden on the district.
The board agreed to bring in Paul J. Scheck, a labor and employment attorney with Shutts & Bowen, the firm the board hired to analyze Gavin's contract, at its next workshop on Nov. 7. Conklin, who will be out of the country at that time, asked Hunt to have her reasons for a just cause termination in writing for that meeting.
In public comments at the end of the meeting, former School Board Chair Trevor Tucker said what the board did was "very awkward and strange," and that 60 days to hire a new board attorney is not enough time to create a job description, advertise and proceed with the hiring process.