Adapted from an AdventHealth press release.
AdventHealth announced plans today to build a 18,400-square foot, 24-bed hospital-based emergency department in Port Orange to care for both adults and children.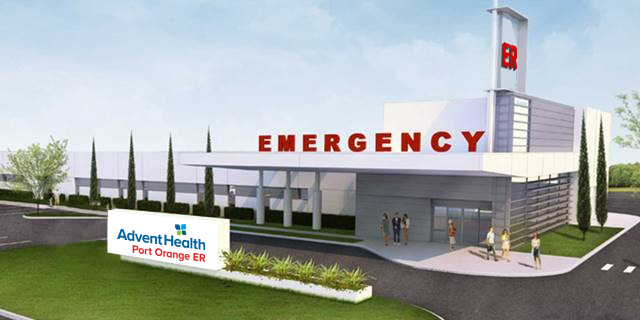 Situated on seven acres directly south of the Port Orange Pavilion at 5811 Williamson Blvd., the AdventHealth Port Orange ER will house the same services found in hospital emergency rooms, including imaging and laboratory services. It will operate as a department of AdventHealth Daytona Beach. 
"Port Orange has experienced growth at a rapid pace," said Ed Noseworthy, AdventHealth Daytona Beach President and CEO. "We looked at several properties in the Port Orange area, but none had the ease of access and visibility of this specific location. This is a convenient access point for the community and is in close proximity to the popular Port Orange Pavilion."
Construction on this approximately $17 million project is expected to begin in March 2020 and open in early 2021. 
"We believe in investing in the community. Not only is this new emergency department an investment in the community's health care, but we are also striving to bring jobs and economic growth to the area," Noseworthy said. "We will use as many local vendors as we can for this construction project. Once completed, we will hire additional physicians and staff, and are looking to add about 40 full-time employees." 
The location is strategically located halfway between AdventHealth Daytona Beach and AdventHealth New Smyrna Beach, giving residents from Port Orange and surrounding communities more convenient access to care. In addition to the ER, AdventHealth plans to expand on the property in the future and add a two-story medical office building for a variety of physicians and specialized care. 
"A number of our physicians and specialists are already serving patients in the Port Orange area," said Dr. Dennis Hernandez, AdventHealth New Smyrna Beach President and CEO. "The new medical plaza will allow us to bring even more specialists and primary care providers to the area, further growing our comprehensive network of services." 
In the next few months, AdventHealth will host a groundbreaking ceremony to celebrate the start of construction on the new emergency department.
The architect is Orlando-based HuntonBrady.