Getting 6-foot middle blocker Francesca "Frankie" Good more involved in the Matanzas volleyball team's offense has been a major factor in the Pirates' recent success.
Good had a team-high 10 kills in Matanzas'  25-8, 25-6, 25-7 sweep of Flagler Palm Coast on Sept. 20 at the Bulldogs' gym. She was one of four Pirates with seven or more kills — Senna Thayer and Faith Purvis each had eight, and Keri Petro had seven.
The Pirates have won 11 of their last 12 matches to improve to 13-3 heading into a home match with St. Augustine on Tuesday night, Sept. 26. Their only loss during that stretch was to St. Johns Beachside, the fourth-ranked team in Class 5A. Before falling to the Barracudas on Sept. 19, Matanzas had won 10 straight, including five in a row at the River City Classic in Jacksonville to win the Coastal Division title.
"We're starting to jell as a team," Matanzas coach Dawn Moses said after the Pirates' win at FPC. "With a freshman setter (Grace Taylor), it's taken us a little bit to learn to run our offense. Tonight, we had four kids with seven kills, and it's nice because it's usually Senna and Keri (with most of the kills). So we're starting to spread out the wealth."
It was the second match in a row that Good has led in kills. She had a team-high seven against Beachside. That's a good sign for Matanzas, which is now ranked 27th in the state in Class 6A. Good, who has 89 kills, can be an intimidating presence when she gets her opportunities.
"We had a rocky start, because we were still learning each other," Good said. "There were a lot of new players. At first there was no mental connection (with a new setter), which is just normal, because it's somebody that's new. Now I'm getting more involved with the game. I'm doing more with hitting stats, hitting percentage, blocking."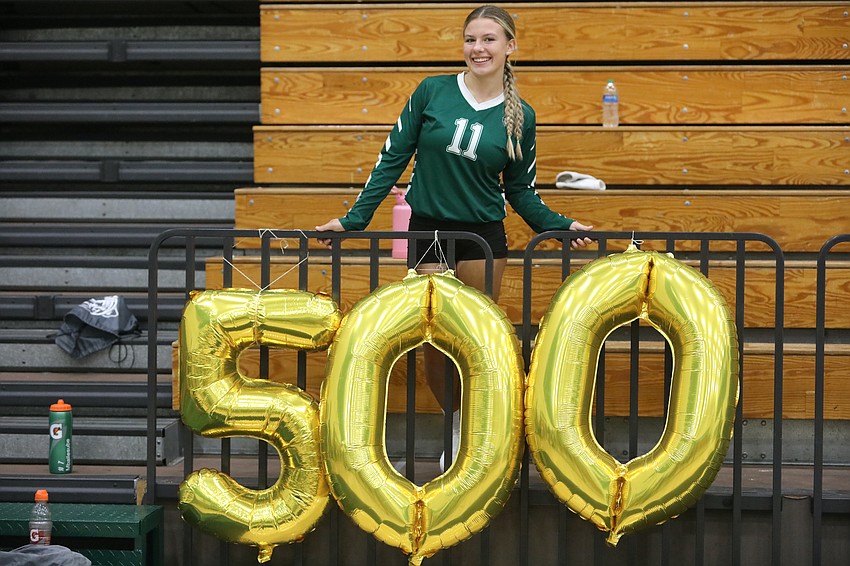 Good has been working to expand her toolset, Moses said.
"We're trying to run her with more than one set. She has to have more than one set," Moses said. "She's doing a nice job on that though, getting some high sets and getting some low sets."
Thayer, who is second on the team in kills with 134 behind Petro, a freshman with 142, said the team has worked to expand the offense.
"We've been working a lot in practice to make sure that we can run different stuff and run them consistently," Thayer said. "We came together against a really tough team (Bartram Trail in the River City final). After losing the first set, we came back and won, and I think that was a big building block for our team. This is one of the best records we've ever had as a program, so I think we're feeling very confident."
This is one of the best records we've ever had as a program, so I think we're feeling very confident."
— SENNA THAYER, Matanzas senior
Sophomore libero Rylan Miller, who is headed to Colorado Springs for USA Volleyball's National Team Development Program Fall Training Series on Sept. 29-Oct. 1, said the Pirates are gaining more confidence every day.
"I think we've gotten a lot better," Miller said. "I know personally I've had to overcome a lot with my hamstring and everything, but I know Frankie's had a huge improvement from last year. I know Senna's gotten a lot better. I think we're all pretty positive and having a lot of fun."
Miller is the first libero from Florida to ever be invited to the National Team Development Program Training Series, Moses said. She is also on the American Volleyball Coaches Association's Phenom Watch List.
"I'm really excited about it," Miller said of the Training Series weekend. "I think it will be a good experience. I just want to play my hardest, have fun, make more friends, meet new people and do my best."