Shannon Gutierrez wanted her daughter, Essie Bass, to be a part of Flagler Palm Coast's senior class panoramic picture even if she couldn't be there in person.
Essie, who was diagnosed with chronic myeloid leukemia in 2016, had a bone marrow transplant on Aug. 31 and was back at Nemours Children's Health in Jacksonville.
The school's attempt to have her included in the panoramic photo on Tuesday, Oct. 24, briefly blew up on social media and angered Gutierrez.
Evana Fretterd, FPC's activities director and Student Government Association advisor, asked the photographer from Cady Studios how Bass' likeness could be included in the picture.
FPC Principal Bobby Bossardet said the photographer suggested using a mannequin's head as a placeholder with the studio later embossing her image into that space.
A student, who Bossardet said is a friend of Essie's, held the mannequin head next to his face for a selfie and posted on social media, "we're going to put essie in the photo." A commenter, who Bossardet said was not in the building, wrote, "i would be so (mad) if I was replaced by a mannequin head."
Gutierrez, who said she had suggested in an email to Fretterd to use a likeness of Essie that she has on a canvas board, was upset to see that comment and others and felt that Essie's classmates were mocking her daughter, who had been on chemo up until Aug. 22.
"Why would you use a mannequin when I gave you an option? My daughter is bald. You don't think these kids run with stuff?" Gutierrez said.
But Bossardet said the student who posted that photo did not have bad intentions.
"Everyone who reposted or has it on their story has taken it down. They said 'we didn't put it up to be negative.'"
— BOBBY BOSSARDET, FPC principal
"He was Essie's best friend growing up, supposedly. He was going to send her the picture," Bossardet said, adding, "Everyone who reposted or has it on their story has taken it down. They said, 'We didn't put it up to be negative.'"
Bossardet said Fretterd was very upset by the sequence of events.
"I know (Gutierrez) wrote Evana an email," Bossardet said. "Evana's not an expert either. She followed the lead from the professional photographer."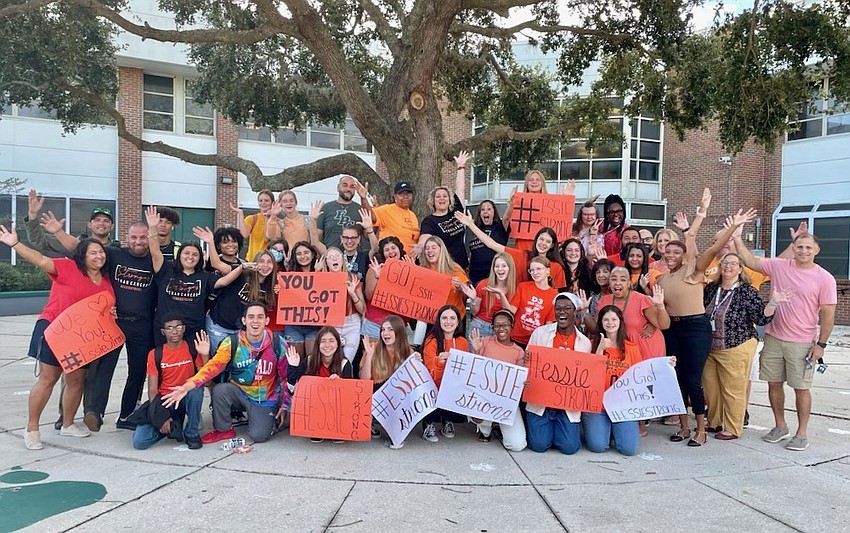 Bossardet said that Fretterd and the SGA have organized many Essie Strong days. On the morning of Essie's transplant surgery, he and Superintendent LaShakia Moore had a FaceTime call with Essie, and students dressed in orange held up signs that said #Essie strong.
"That was SGA-sponsored," Bossardet said. "Evana sent out an email blast saying, 'Everyone wear orange tomorrow.'"
Gutierrez said Essie had been readmitted because of psychogenic nonepileptic seizures.
"This whole situation couldn't have happened (at a worse time)," she said. But she later posted on Facebook that they are going home.
"I will have a bigger update soon!!! But we are going HOME, like Palm Coast Home!!!" she wrote.