Ormond Beach resident Bill Fletcher has a goal — raise $100,000 for nonprofit Live Like Cameron through his fourth annual beard shaving fundraising event, Shave for the Brave, on Sunday, Dec. 10.
Fletcher, who owns Fletcher's Irish Pub in Ormond Beach and Fletcher's Irish Pub and Brewery in Holly Hill, launched this year's event with a kickoff party on Sept. 24, followed by a fundraiser featuring the Black Sheep Ceílí Band on Sept. 29. 
Shave for the Brave raised $18,000 in 2020, $56,000 in 2021 and $77,000 in 2022.
"Other than we have some great events, it's a great cause," Fletcher said. "We are trying to hit a monumental goal. This is not 'no shave November' — this is something specific that is for children's cancer and focusing on Live Like Cameron which is a story about a great, local family."
Melissa and Dan Fulling started Live Like Cameron in memory of their son Cameron after he died of brain cancer April 6, 2017. Fletcher was diagnosed with abdominal cancer in 2019. He joined the battle against the disease after his cancer went into remission. 
Fletcher will not be shaving this year after his recent healthy checkup.
"I'm growing my beard for two years because, as of last week, I got my green light from my four year cancer remission so that's great news," he said. "My goal is five years of the event and five years remission. I'll have a two-year beard."
This year, Fletcher scheduled five events before the main fundraiser. New to the lineup was the Jeep Meetup held on Oct. 7 at the Holly Hill location, where 70 jeeps filled the parking lot. Shave for the Brave sponsor Jeep Beach donated an entry for one of the raffles. The event raised $2,000.
For the fourth year, Shave for the Brave Pub Crawl and Poker Run participants registered and paid $25 at Fletcher's Ormond Beach location then made their way to the first stop — the World's Most Famous Brewery in Daytona Beach. They then convoyed to Froggy's Saloon, Main Street Station, Riverside Johnny's, Beaches, Riptides Raw Bar and Grill,  Charlie Horse Restaurant and returned to Fletcher's. The holder of the highest hand won 50% of the proceeds with the remainder going to Live Like Cameron, which is based in Palm Coast.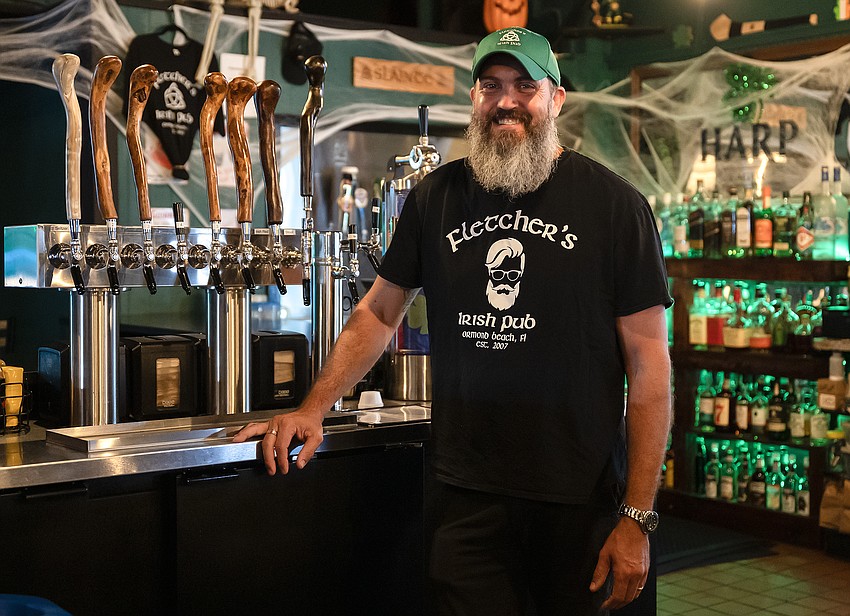 Upcoming events
Fletcher hosts a car show in Holly Hill every Tuesday as a way to reinvigorate the shows in Holly Hill and to brand his new brewery. He decided to continue that by scheduling a Shave for the Brave car show on Sunday, Nov. 19.
"I'm a car guy," he said. "I come from a family of mechanics. I have a '72 Bronco and an '89 Cobra. That's where this originates from. I just bought my childhood station wagon — a Country Squire with wood panels."
The Christmas Ugly Sweater, Bike and Bar Crawl scheduled on Sunday, Dec. 3, is one of the new events on the schedule. Riders are encouraged to wear ugly Christmas sweaters and decorate their bicycles before peddling to the Ormond Beach establishments. OB Sports Corner Bar and Grill, Pirana Grille, The Grind, Ormond Garage, Outback Steakhouse and Jimmy Hulas are mapped out for the event.
Fletcher and his wife Jeanine have added a 20 minute stationary bike ride to the end of their workouts in preparation for the bike and bar crawl.
"If you don't prepare for going over the bridge, it is rough," he said, joking. "I'm telling you, next day is like, 'What the hell happened?' Take Monday off."
When Fletcher started the event four years ago, his goal was to raise $100,000 at the fifth event. Shave for the Brave may be aiming for that goal a year earlier now, but Fletcher said he also knows many are experiencing a difficult year from a financial and economic standpoint. He has had sponsors drop out this year or reduce their contributions.
"In my opinion, with the market we are in and the economy, if we can do baseline $77,000 or increase anything, it's great," he said.
The Brewery
Brewmaster Robre Shash joined Bill Fletcher's team three months ago after managing two Sanford establishments. He has designed seven beverages for the taps at Fletcher's Pub and Brewery in Holly Hill — five beers, one seltzer and a root beer. They were launched Oct. 10.
"He took the bull by the horns and is just killing it," Fletcher said. 
On tap is a sour beer, an Irish red, an Irish stout, an IPA, an English brown, a strawberry seltzer and root beer. Patrons can purchase a flight of four drinks of their choice.
Shash has been busy. He crafted a Harvest Fest beer for the holidays along with two different Christmas brews named Naughty and Nice — a Belgium double and a Belgium quad. He brewed an extra large batch so they will be tasted this year, aged until next year and served after their flavor profiles have changed.
Friday the 13th will also be on tap next year. It is the brewery's first imperial pumpkin beer. The Pumpkin Flight will sell for $20 and the Fletcher Flight sells for $14. Patrons have been asked to give their feedback about the flights. All seven beverages are averaging 4.6.
"Robre's extremely passionate and that's what sold me," Fletcher said. "He's not a even a diamond in the rough, he's the diamond."