For 13 years, School Board member Carl Persis was principal of Tomoka Elementary. As he looked over the rubble that used to be his school campus during the groundbreaking ceremony for a new, $49.3 million campus on Tuesday, June 27, he pointed to where the main office used to be.
In front of a crowd of community members, school staff and elected officials, he recounted memories of his time at Tomoka: the beginning of the ESOL program at the school, placing a flag up for every different native language spoken, receiving children from other schools for the gifted program, standing in the parking lot every day to greet students.
"I can't think of 13 more wonderful, gratifying, satisfying, rewarding years, than the years I had right here," Persis said.
He was principal from 1991 to 2004 and is believed to be the first person to serve as a mayor and a school administrator at the same time in Volusia County, and according to the district. 
He was elected mayor in 1999 and served until 2002.
As she opened the groundbreaking ceremony, Superintendent Carmen Balgobin said it was a bittersweet feeling to say goodbye to Tomoka's former building at 999 Old Tomoka Road to make room for the new campus.
"However, this is just a building," Balgobin said. "The people that make the history of this wonderful community, you're all here today."
A growing school
Tomoka opened in October 1968, according to Volusia County Schools. The first principal was W.L. Mullens, and the school had 240 students. It consisted of eight classrooms, a multipurpose room, a temporary library and an office suite. Before the campus was ready for students, Tomoka Elementary operated out of a nearby church for six weeks.
At the end of the 2022-2023 school year, Tomoka Elementary had 734 students. The capacity of the new campus will be 836, and the school is slated to reopen in the fall of 2024. It will also feature an improved parent drop-off area with more space for pick-up lane stacking.
Julie Roseboom has been principal at Tomoka Elementary for the past five years, but she said her connection runs far deeper — her children were raised in the school, and Mullens was a family friend when she was a teenager.
"When I got my first principalship, he said, 'Julie, one day you're going to be at Tomoka,'" Roseboom recalled. "W.L., I made it."
'It's a huge part of our history'
As a child, Ormond Beach Mayor Bill Partington attended Tomoka Elementary. It felt great to return to his alma mater, he said during the ceremony.
"This school is so important to the city of Ormond Beach," he said. "... It's a huge part of our history and who we are." 
Public schools are the backbone of our democracy, he added. 
"Our public schools have historically made America what it is today," Partington said. "We live in a fantastic country because of these schools and especially starting with our elementary schools. Ormond Beach has some amazing elementary schools, and we're very proud of them."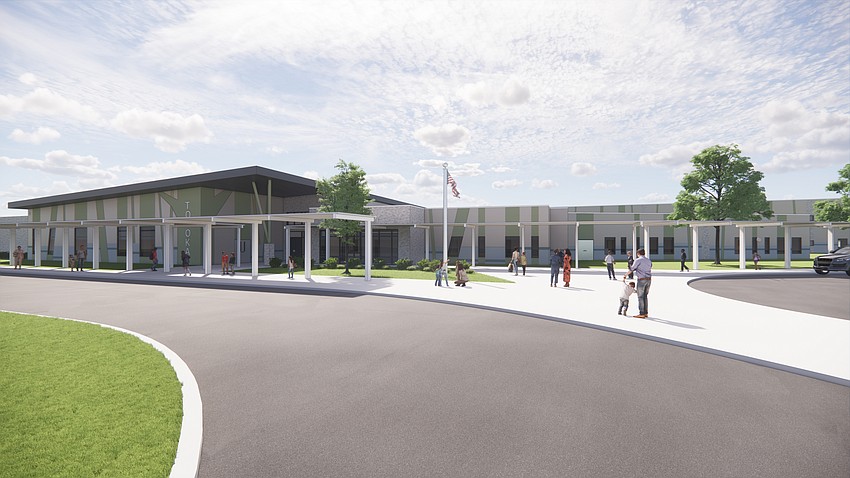 Megan White, a designer with architectural firm BRPH, said that the celebration was not only a groundbreaking for a new school; it also marked the laying of a "groundwork for a better future for the students." 
"We envision an educational community that thrives on innovation, and embraces diversity, where ideas flourish and creativity knows no bounds," White said.
The design of the new school is inspired by Tomoka State Park and the surrounding neighborhood, according to the district. 
It will incorporate a blue and green color scheme to represent the Tomoka River and pay tribute to historic oak trees. 
WELBRO Building Corporation will build the campus. Old-growth trees and several artifacts from the former school, such as the 1979 totem pole, will remain, the district stated.
Persis's 'best decision'
School Board Chair Jamie Haynes said the new school will benefit the entire community. She thanked the community for supporting a half-cent sales tax to make the Tomoka project and others feasible for the school district.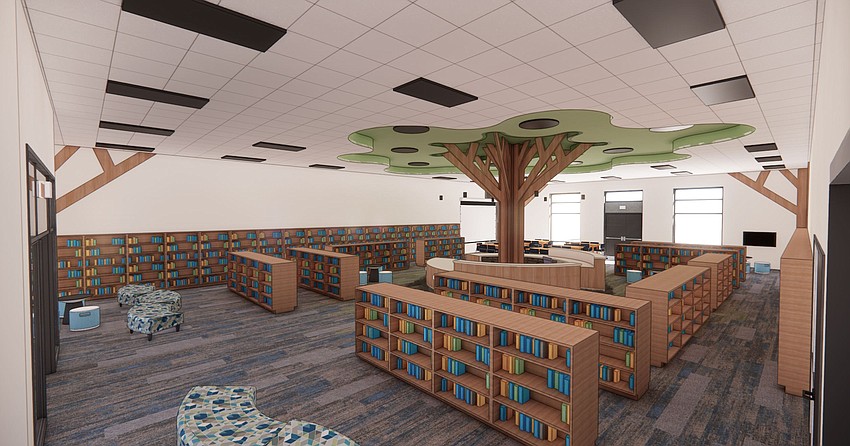 "All of you make this possible, and believe it or not, all of you are making this possible today because you believed in Volusia County Schools," she said. "You supported our half-cent sales tax, and we have a wonderful Half-Cent Sales Tax Committee that oversees that money and ensures that things that we promised to do happen, and this is one of the things that was on that half-cent sales tax promise was that we would rebuild and give Tomoka a new school."
When Mullens was ready to retire, he called Persis, who was working for the Florida Department of Education at the time. Persis congratulated him, he recalled. 
That's when Mullens told Persis he was the "perfect person" to replace Mullens at Tomoka Elementary and urged Persis to return to Ormond Beach.
"Best decision I ever made," Persis said.