Palm Coast City Councilman Victor Barbosa resigned on March 1, effective immediately, two days after he was trespassed from the local Walmart on an allegation of shoplifting. (UPDATE: March 3, 2022: The trespass order against Barbosa has been canceled, according to the Flagler County Sheriff's Office.)
Barbosa had called the Walmart incident a "misunderstanding." He had not been charged: Walmart has a policy of not bringing charges against suspected shoplifters who've stolen less than $25, and Barbosa was accused of stealing a single $18 clothing item. 
After the case was reported in the local press, Barbosa had posted on Facebook, "There is no peaceful life in politics."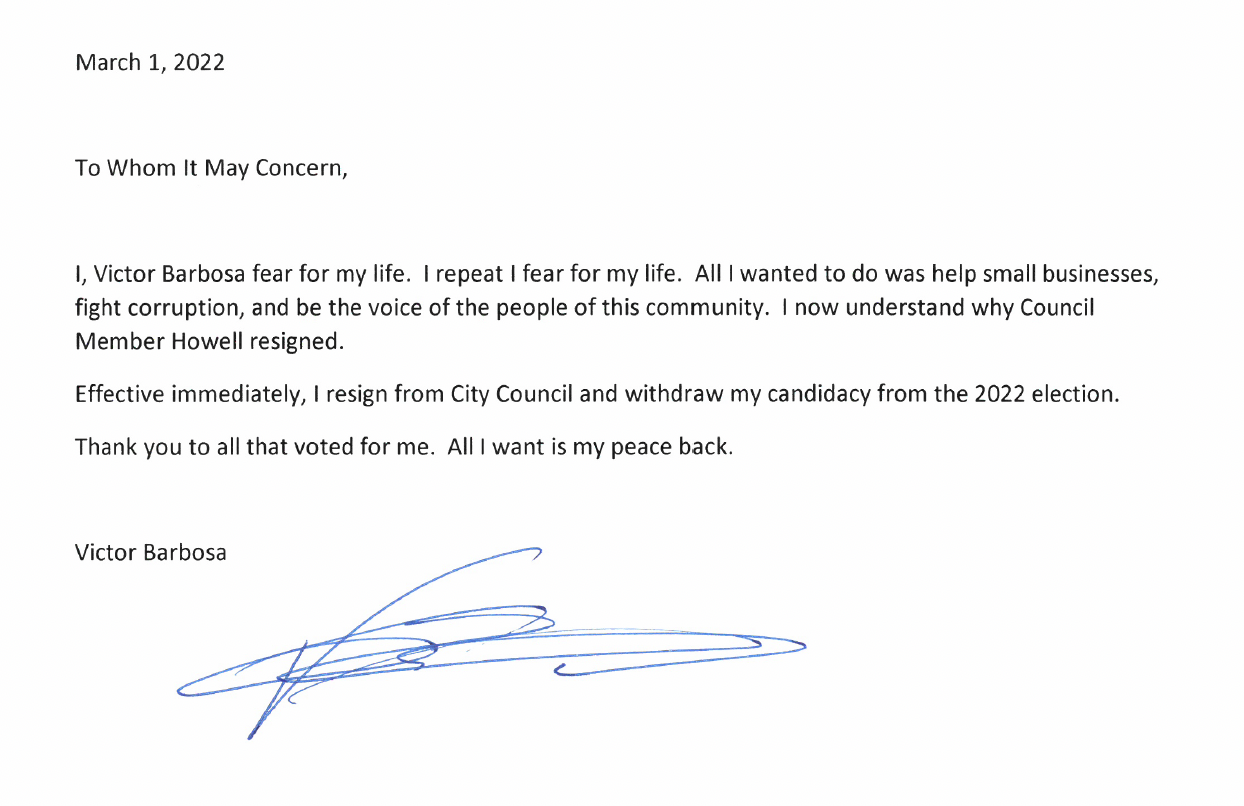 It was not the first time since his election that Barbosa has been publicly accused of a crime: In July 2021, the Flagler County Sheriff's Office stated that it believed Barbosa was a fugitive wanted in Costa Rica for kidnapping and extortion, and that the Florida Department of Law Enforcement and U.S. Department of Justice were investigating. That case remains open.
Barbosa had been elected in November 2022 to the District 2 seat that had been vacated by former Councilman Jack Howell.
The afternoon of March 1, hours before an evening council meeting, Barbosa sent City Manager Denise Bevan a cryptic, three-paragraph resignation letter.
"I, Victor Barbosa, fear for my life. I repeat I fear for my life. All I wanted to do was help small businesses, fight corruption, and be the voice of the people of this community. I now understand why Council Member Howell had resigned.
"Effective immediately, I resign from City Council and withdraw my candidacy from the 2022 election.
"Thank you to all that voted for me. All I want is my peace back."
Barbosa's reference to Howell was not clear: Howell had resigned his council seat because he was fighting cancer. 
Barbosa's council term would have run through this November.
He had filed in March of 2021 for the District 4 County Commission seat held by Joe Mullins, but had announced during a Feb. 15 City Council meeting that he was dropping his bid for County Commission in order to run for reelection to the City Council.
Mayor David Alfin announced at the beginning of the 6 p.m. March 1 council meeting that Barbosa had resigned, and had the city clerk explain the process for appointing a replacement. 
"I simply want to give voice to our unity as a community, to reassure to all who call this beautiful city of Palm Coast home that your City Council will continue to work together full-heartedly to ensure you receive the leadership you've come to expect and deserve," Alfin said. "Nothing can be more important to all who sit before you on the dais."
The City Council, according to its charter, must call a special meeting and confirm someone to fill Barbosa's vacant seat within 30 days.
The appointment would last until the November election, and the person selected may not run for the seat in November after being appointed to the temporary position.