The Ormond Beach Historical Society welcomed amateur sleuths to its first Mardi Gras Murder Mystery on Saturday, Feb. 26. The event was a sold-out affair with 100 tickets purchased online at $100 per person. So far, it has been one of its biggest fundraisers, along with the group's annual Oktoberfest.
As an active member, Catherine Root was interested in supporting the historical society by hosting a gala event at her home. She and her husband, ophthalmologist Timothy Root, purchased the Rowallan house in 2019, and it has been included in the society's annual Virtual Tour of Homes the past two years.
The idea of having a murder mystery party was exciting to the members of the Historical Society and they began to plan for the event beginning in July 2021. Root led the decorating charge in the summer and began to purchase the materials necessary to create a Mardi Gras-style atmosphere in her home. Preparations were put on hold during the holidays due to the annual Virtual Tour of Homes but decorating for the event commenced January 1.
"I hope that this was an inaugural murder mystery but that will be up to the Roots,"  said Joy Brown, who serves on the society's board of directors. "I think it was very well received, I haven't heard anything negative. Not just positive reviews but absolutely glowing. The only suggestions I heard was that this needs to be an annual event." 
The game itself was created by Dr. Root, who understood the importance of upscaling it for 100 participants and creating a more socially interactive environment. He came up with a social card game interspersed with escape room type puzzles. His background in publishing and graphic design, enabled him to do most of the artwork and design of the mystery.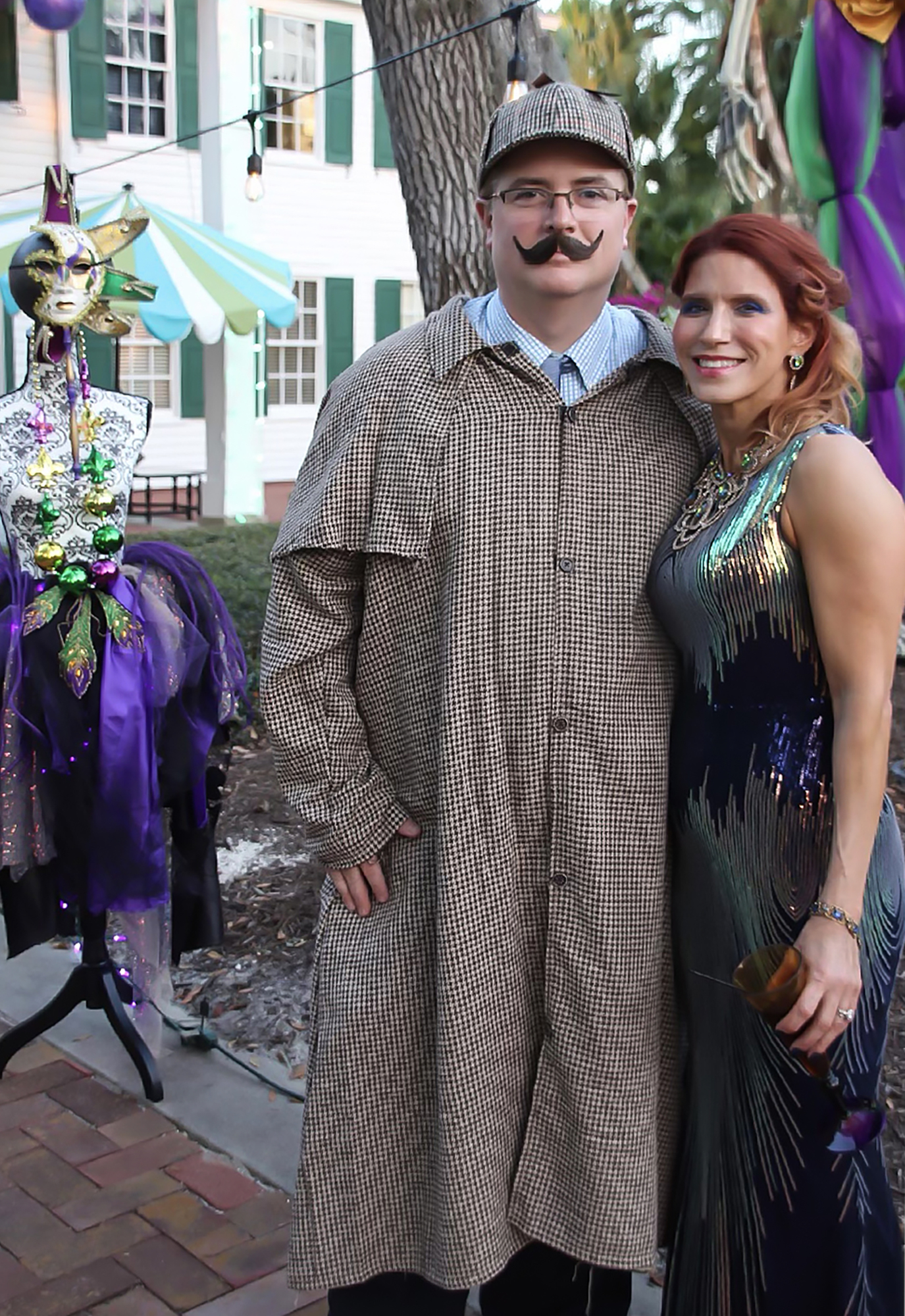 Root currently practices at the Tomoka Eye Associates. He does online teaching and is a cartoonist who writes and illustrates books on ophthalmology for medical students. Bill Watson is the CEO of the Tomoka Eye Associates and appreciates Root's creativity.
"Anything that Tim Root does is cool," Watson said. "Let me tell you, he's a genius. We do all kinds of fun stuff together. Our whole group is like that. We all just like to laugh and have fun."
Each participant was given a packet, which included playing and action cards. Playing cards could be exchanged with fellow gamers by following the directions on the action cards. The pseudo detectives, with cards in tow, moved between eight themed rooms manned by characters named Madam Tarot, Lady Diamond, Rita Ridler, Voodoo Mama, Larimie Lockheart, Mississippi Jones, Dr. Peeper and Royal Flush. This allowed them to work towards a conclusion by process of elimination.
Participant Cheryl Sullivan, a senior development manager for the American Cancer Society, was excited with the murder mystery game concept for a possible ACS fundraising event.
"We are always looking for neat ideas and new things to do," she said. "We've all done the golf tournaments and 5Ks. This is definitely a consideration."
Root anticipates hosting more events in the future.
"We are just happy to live in a historic home like this," he said. "There have been many wonderful families that lived here before us and we wanted to keep the spirit of the place alive. Hopefully, we'll have many more gatherings in the future."