Updated 3:05 p.m. April 21
There were no toddlers being dropped off in front of the playground, no welcoming chatter from teachers or staff at the front doors of Palm Coast Community School, just dark windows. School was out, so it was no surprise that the parking lot was empty on Monday, April 18, but these dark windows and this distant hum of traffic on Palm Coast Parkway will be all that's left of the private school and the accompanying church unless it can come up with more than $5 million by October, to pay off the building.
What chance does Palm Coast Community Church have of surviving? And what does a community lose when a church and school dissolve?
After arranging to meet with Lead Pastor Mike Adler to try to answer those questions, I went to the wrong entrance of the building. But he met me at the door with a smile on his face, a short man with glasses and buzzed hair, shorts and a black polo.
I followed him on our unplanned tour of the 48,000-square-foot labyrinthine building, through cubicles and corridors, with classroom signs on the walls, flowers made of balloons hanging from the ceilings. It's a converted manufacturing facility, he told me later.
In a modest conference room, with two shelves that stored not only books but also cleaning supplies, Adler introduced me to Director of Family Connections Mary Benvenuto, who wore a black T-shirt with the word "faith" turned into a cross.
The building
Palm Coast Community Church, or pc3, was one of the area's first churches. Billy Wight was one of the founders, in 1995, and no one called him "pastor," just "Billy." Benvenuto attended the second service that year and eventually became a staff member in 1999.
Thanks to permissions worked out by Wight, the church met in Wadsworth Elementary School and then Indian Trails Middle School, always finding ways to welcome people who didn't normally go to church. Today, the church's website says, "We don't care how you're dressed, how many tattoos you have, or what candidate you voted for. We're a church full of broken, imperfect people with every kind of story imaginable, and we're saving a seat for you."
In 2005, with attendance as strong as 1,000 on Sundays, pc3 bought a building — the manufacturing warehouse they're in now — at Palm Coast Parkway and Pine Lakes Parkway. It then secured a loan on better terms from the Florida Baptist Foundation for an amount that is unusually high for the foundation: $5.1 million. Today, the foundation has loans out to 266 churches, and pc3's loan is among highest 10 amounts. According to Craig Culbreth, who has worked for Florida Baptist Convention for 24 years, only about 1% of the loans typically default, as it appears this one will.
Planting Epic
Many things have sidetracked the payments to the foundation.
First, the recession hit the community hard in the next several years. Trent Schake was on staff at that time, and he remembers members moving out of the area, losing jobs.
The church leadership then decided to plant a new congregation in Palm Coast, with the hopes of reaching even more people "who don't do church." That congregation, in September 2009, became Epic Church, led by Schake.
About 25 members of pc3 volunteered to join Epic and help Schake. Today, Epic continues to meet at Buddy Taylor Middle School, with 700 in attendance each week, plus another 200 online. Epic is planning to build a church on Seminole Woods Parkway in a few years, he said.
I asked Benvenuto if Epic's success has come at the expense of Palm Coast Community Church (commonly referred to as pc3), whose congregation has dwindled to about 100 per week, but she doesn't see it that way.
"That decision was not made in any kind of just, 'Hope it works out,'" she recalled. "It was with a confidence that this was what God was moving us to do."
I'm a believer, too, so I get it. Faith, by definition, isn't always logical. But what about paying the bills?
Adler responded: "We can look at the small kingdom of Palm Coast Community Church, as far as what God's plans are, but our view and our eyes are consistently on the bigger kingdom: the kingdom of God."
The calculation to plant a new church, thereby thinning out pc3, wasn't about money, despite the money that was owed on the building.
"What's going to benefit the kingdom of God more," Adler asked, "having one church like pc3, or having one church like pc3 and another like Epic, so that each can reach out into the community in a variety of ways?"
Is Adler's church in financial trouble? Yes. But, in his eyes, that's not the most important measurement of success.
"I think of the thousands of people that we wouldn't have been able to help had we not planted Epic," he said. "We would have thousands of people who would not be attending church and would not know Jesus. … So I don't think anybody would go back say, 'Yeah, we shouldn't have done that.'"
Schake praised the vision of Bill Wight and his wife, Kim, saying that pc3 set the foundation for not only Epic's success, but others as well.
"We are nothing but huge fans of pc3 and their leadership. Our hearts are heavy with them, and hoping God will see them through this to other side."

TRENT SCHAKE, Epic Church paster
"They've touched thousands of lives," Schake said. "We are nothing but huge fans of pc3 and their leadership. Our hearts are heavy with them, and hoping God will see them through this to other side."
Even if pc3 hadn't planted Epic, there's no guarantee that the loan would be close to being paid off anyway, Adler added. A high Sunday attendance doesn't always correlate to a high number of givers. In fact, the emphasis on being a church for nonchurch people likely is selective for people who aren't used to giving money to a church. And those are precisely the people Adler wants to reach.
"Our community is designed for people who have a lot of questions, have a lot of doubts," he said.
The goal is that the church is functioning seven days per week. And when a family at the school or the church has a hardship, the atmosphere is one of support and genuine love, with meal trains, and exceptions made to help people through individual circumstances.
Benvenuto added: "We've worked hard to decrease barriers. Our welcome mat is so far out in the community."
Expanding the school
In 2012, pc3 started a child care center, referred to as pc4. Over the next few years, it grew to 25 children, then 50, and then it qualified for voluntary pre-kindergarten.
Benvenuto was involved throughout the process (she jokes that she's been with the school since 1840).
In 2019, a year after Adler was hired as pastor, his first paid position in any church, the Palm Coast Community School became an elementary school, and today, it serves kindergarten through seventh grade.
During all these years, the church was making payments to the Florida Baptist Foundation, but it was mostly paying interest, not enough to lower the $5 million debt.
The reason a church adds a school is often motivated, in part, by finances, Adler said. With dwindling congregations in almost every denomination nationwide, a school enables a church to reach a younger generation, and they may become the "giving" families of the future — the church members whose donations will pay the bills.
Adler characterizes pc3's approach differently, saying the school was more overtly "a ministry of the church."
Therefore, Benvenuto said, it was operated differently, with a teacher to student ratio of about 6:1, rather than the state's requirement of 11:1.
"If someone came through our doors and said, 'Hey, I'd like to work here, and I love 2-year-olds,' then we want to set them up to be successful," Benvenuto said.
The school, it appeared, did not operate with the same financial stress as other schools that have a strict budget to live by. It had more staff than was required.
"So did that prevent the church from being able to have enough money to pay these bills?" I asked.
"If we were money-driven — if the purpose and the goal of that [school] was to generate income, yeah, probably," Benvenuto said. "But it's not."
"It wasn't a business decision, it was a faith decision," I suggested.
"We wanted to reach the community," Benvenuto said. "It was a, 'The community needs this,' and I am telling you, the community still needs this."
The school has 224 students, plus long wait lists: about 160 for infant to VPK enrollment.
Like Benvenuto, Adler also focused on the good the school was doing, rather than whether it was contributing enough to the church's bottom line.
The community is full of transplants from other states, he said, so many people have no family, no friends when they arrive. As a church and school community, "that was something that we could we offer. We said, 'We're interested in the student, and we're interested in the family as well. We want to be unwavering."
Benvenuto told an example of a student whose father was in an accident.
"So now we kick in gear," she said. "We run out, we get a gift bag, we get some gift cards, we get some snacks, we get coloring books, because now we know that this kid — and we know the older siblings — we're going to get him a package for when they're in the hospital. … We wanted to be the extended family."
Facing the finances
It was moving to hear Adler's and Benvenuto's dedication to the families in the church and the school. They were willing to do anything to help, it seemed. They believed that God was guiding not only their organizational decisions but their day to day ministry with specific families. In the church I attend, we call it ministering to the one.
And yet, I was in their conference room because the debt was due.
Adler knew about the debt when he was hired, but then the pandemic hit, and he was focused on helping the church members through their own woes. Fortunately for pc3, the foundation forgave many payments and extended the terms of the loan, as it did for many churches, according to Culbreth. And it helped others in the convention, too: In many years, 10 of its 2,800 churches might dissolve; in the pandemic, only six did. (Seventy-four new churches joined the convention last year; six launched on Easter Sunday 2022).
But after more than two years of extensions and forgiveness, Culbreth said, the foundation had to call the note due.
"We have to be responsible to other people," he said, referring to the churches who fund the foundation. "We have to be good stewards. … We just want [pc3] to pay it back so we can lend it other people."
He added: "They need to leave in October."
That means the school dissolves. The church folds. Adler and the rest of the staff could soon be unemployed.
What If?
On Saturday, April 23, the community is invited to a fundraiser in the church's main parking lot, at 1 Pine Lakes Parkway N., Palm Coast. From 8 a.m. to 2 p.m., there will be a sidewalk sale of furniture, antiques, games, books. There will be a bake sale, bounce houses, games, plus hot dogs and chips and auction items.
I've been to one of these pc3/pc4 parties. It was great fun. But it's not going to make a dent in that $5.1 million debt, which has actually grown to $5.3 million.
"How much does it cost to get into the event?" I asked.
I already knew the answer, though.
"It's free," Adler said. He seemed slightly confused by the question. For him, the main goal of the event was to bring joy to people in the community, not just to raise money.
"Do you feel stressed by all this?" I asked.
He said he did, although he still had a smile on his face. He said this wasn't going to be the only fundraiser, and in the end, the best hope to pay off the debt is for someone to buy the building. If this buyer is willing to let the church and school operate for a year as a transition, the ministries could survive intact and move to a new location, possibly a public school, like in the first 10 years of the church's existence.
The property is in a good location: at the corner of Palm Coast Parkway and Pine Lakes Parkway. Soon, there will be two hospitals nearby. The city of Palm Coast leadership believes Palm Coast Parkway will eventually extend west of U.S. 1, so the church will feel more and more like the center of town, potentially. A 2020 appraisal said the building was worth only $2.7 million, Adler said, though a real estate agent told him the value has increased "significantly" since then.
Is finding a buyer realistic?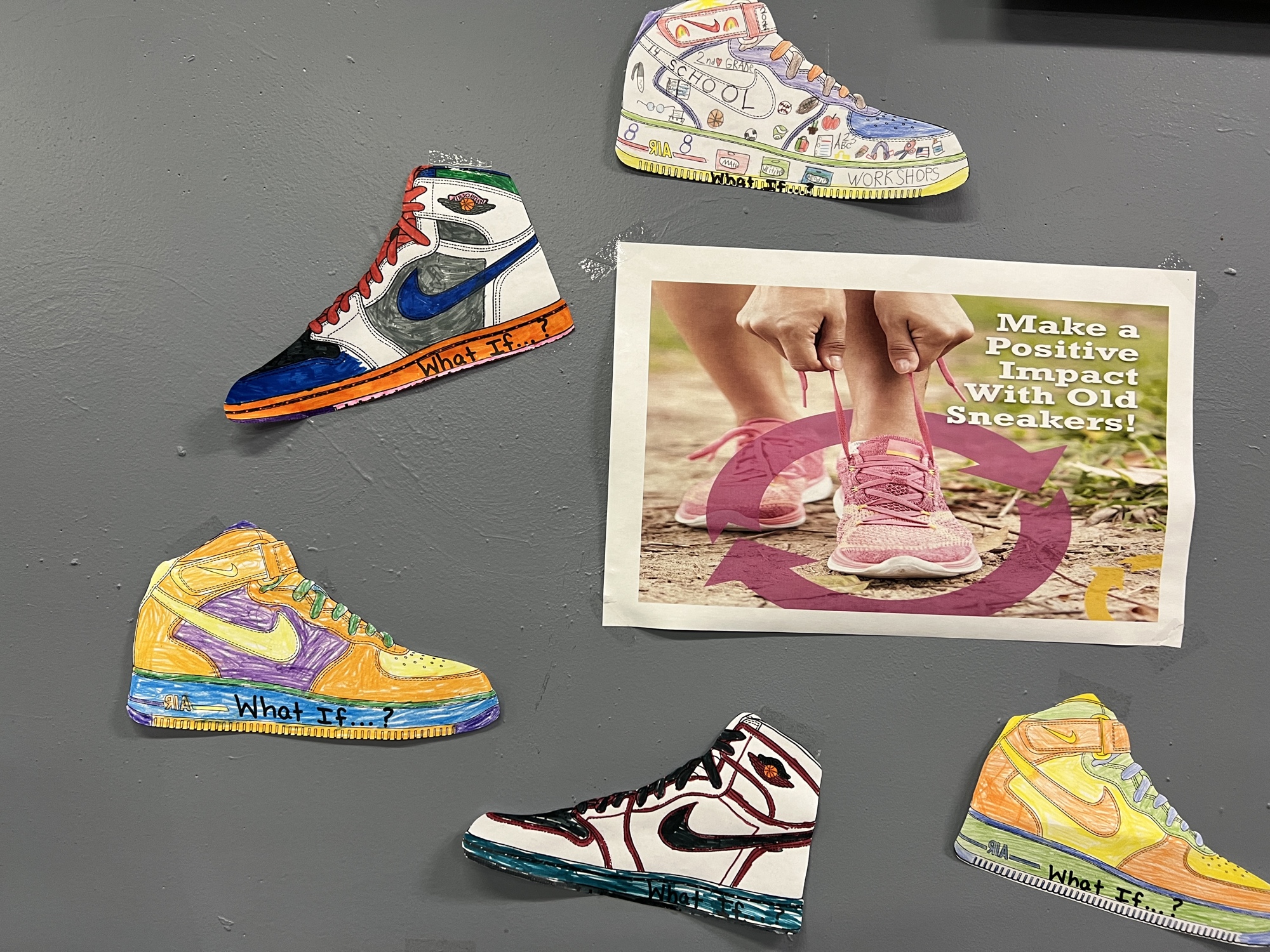 Members of the church are asking, "What if?"
What if a miracle happens?
As Benvenuto, Adler and I left the conference room and headed through the corridors and the cubicle maze, I saw that we weren't alone in the building anymore: Three women were sitting on the ground together in a corner, sorting through items that are going to be sold at the fundraiser on April 23. In another hallway, there were totes full of old shoes that can be recycled for money. Children had taped crayon drawings of colorful shoes on the walls, next to signs that asked "What If?" The words "What If" had been stenciled on walls near the sanctuary of the church.
When we got to the front door, Benvenuto asked me if I wanted them to remember me in their prayers. I believe in the power of prayer, so I did make a personal request. Then I asked if they wanted me to pray for them. I expected them to ask for a buyer, a miracle that would keep their church and school afloat.
Instead, they asked me to pray for their own children, their own families. They weren't administrators in that moment. They were people of faith, struggling with life, like everyone else.
Editor's Note: Craig Culbreth was originally reported as working for the Florida Baptist Foundation. The story has been corrected to reflect that he actually works for the Florida Baptist Convention.
Editor's Note: The story originally said the $2.7 million appraisal was "recent." The story has been updated to say the following: "A 2020 appraisal said the building was worth only $2.7 million, Adler said, though a real estate agent told him the value has increased 'significantly' since then."