Although Palm Coast doesn't have a beach — the nearest are in Flagler Beach, Marineland and unincorporated Flagler County — it does have saltwater, lots of it, in the city's canal system. For decades, that saltwater has enticed people to settle here.
"I think there are probably a lot of cost effective ways to do this. But if we start to do it like we're building the Panama Canal, we might be making a false step."

 

— DAN BRYANT, Palm Coast resident and sailboat owner
Palm Coast's network of tidal canals link locals' backyard boat docks and lifts to the Intracoastal Waterway; from there, it's an easy shot for a motorboat to get to open water through the Matanzas Inlet.
Palm Coast has long touted the canal system as an attraction: Palm Coast's first welcome center was on the canal system; now an overhead shot of the canal network forms the background for the city's new website. But it hasn't done much to maintain those waterways, aside from fixing the occasional sagging seawall or removing debris.
And now the city faces a question: The canals have never been dredged, not since they were dug as dry ditches and an earthen plug was removed to let them fill with seawater. But should they be?
Palm Coast City Councilman Ed Danko thinks it's time.
"It's part of our city, like anything in our city," Danko had said at an Oct. 12 council meeting. "… We're all in this together, and it's a huge amenity."
At his suggestion, the city has placed on this year's National Citizen Survey a question asking respondents if they believe the city should hire a consulting firm to see what dredging would cost.
AN ORIGINAL AMENITY
Saltwater canals were one of Palm Coast's original amenities.
Around 1970, three decades before the city incorporated, ITT Levitt Development Corp. would bring prospective buyers in by boat to look at homesites, according to an article by Palm Coast City Historian Art Dycke.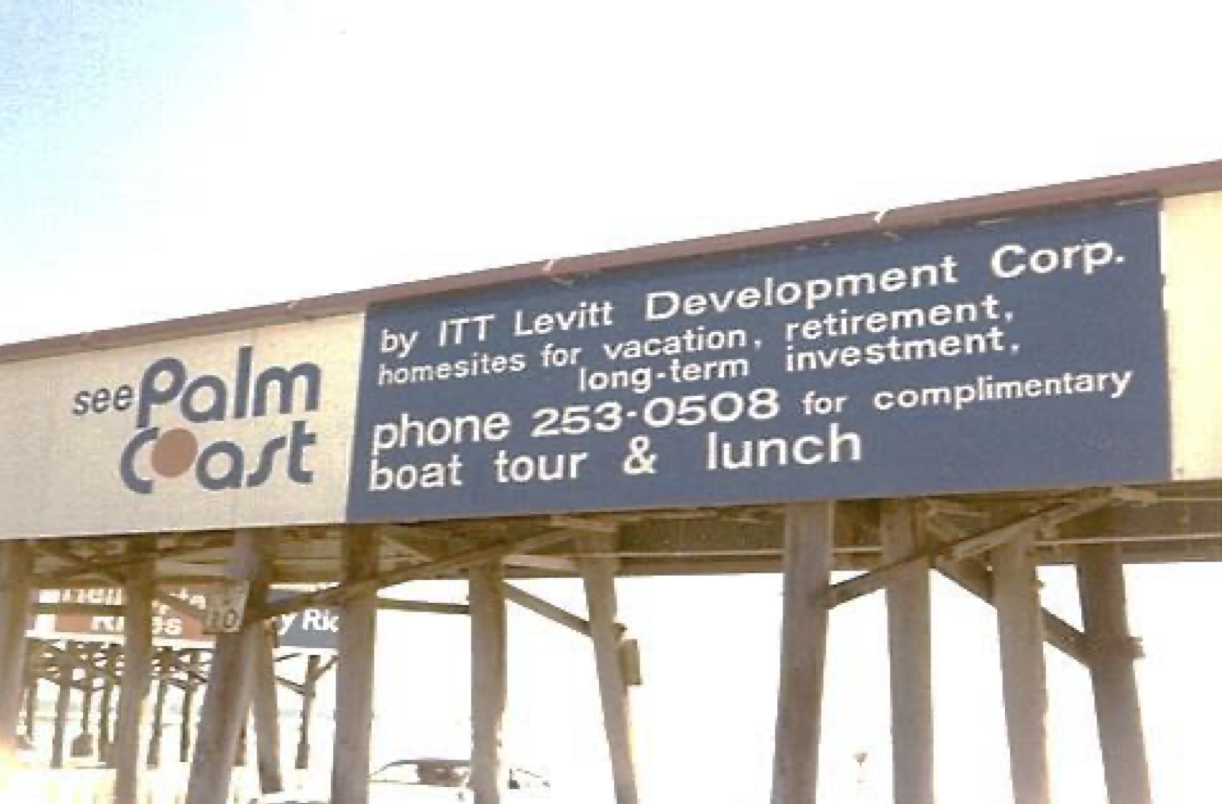 "Prospective buyers were driven to a small dock on the east side of the Intracoastal Waterway across from the present day Palm Coast Resort," Dycke wrote in a 2015 edition of The Palm Coast Historian, published by the Palm Coast Historical Society. "They were taken by boat to the emerging Welcome Center. There, land and preconstruction homes were marketed starting at $13,000. Even before Palm Coast opened officially, sales were brisk."
By the following year, ITT was digging a network of 15 miles worth of canals in what would eventually become part of Palm Coast's C-Section.  
There is no maintenance program for the canals themselves —at least, not for the saltwater ones. 
The city has a fee-funded stormwater maintenance program, but that only handles the freshwater canals. 
For saltwater canals, the city government maintains canal end walls and stormwater pipes draining into the canal system, and will remove debris or obstructions that could affect public safety. But that's it.
"The saltwater canal's influence on the stormwater system is controlled by tidal fluctuations, and dredging below the waterline has no effect on the city's stormwater system," the city said in an emailed reply to questions about the canal system. "For these reasons, the city has not, to date, performed any dredging or regular maintenance of the canals."
The only exception has been "minimal spot dredging to clear navigational hazards" in conjunction with other repairs or capital improvements nearby, using money for those associated projects. 
City staff haven't undertaken much investigation of what it would cost to dredge the canals, but did find that the Tampa area recently spent over $55 million on a dredging project, according to a city spokeswoman. It wasn't clear how the scope of that endeavor would compare with a Palm Coast dredging effort, she said.
GETTING SHALLOWER
A navigation summary for a small C-Section anchorage basin on Active Captain, an interactive Garmin-based boating chart app and website, notes the shallow nature of the area. 
"Be very careful with any boat that draws more than 5 feet," it states. "It can be lower than 6 feet at the entrance, requiring some tide help to get in. The basin has 6 feet of depth at low tide."
"The only amenity really that's not being maintained — and it's the first amenity — is the saltwater canals."

 

— MARK LEWIS, local boater
Some cities or counties that have saltwater canals — like Cape Coral, which advertises 400 miles worth of them — have regular maintenance dredging programs designed to keep the center of their canals at a navigable depth. Others put off dredging until they're facing a price tag in the tens of millions of dollars. 
Boaters who live on the canal system in Palm Coast have noticed the depths decreasing over the years. 
"It's gotten shallower. It's silted in," said Barry Kipnis, a member of the Palm Coast Yacht Club.
Kipnis, who's boated for 55 years, bought his home in Palm Coast because of the water access. He used to have a boat with a 5-foot draft. Certain areas were tough to navigate.
"You had to be very careful at the entrance to the northern canal at the Intracoastal Waterway, because those corners had silted in to the point you had to stay at the center," he said. "That was years ago, and since then, probably it's gotten worse."
Resident Jon Blake also pointed to particular areas where depths can't accommodate the draft of sailboats or larger motorboats.
"Certain boats have to come in on the tide because it's shallow in places," he said. "Certain places, it's fine, other places it's shoaled in. ... If you have a sailboat or anything else, you're on the ground a lot of the time."
Sailboats tend to have deeper drafts than powerboats of the same size — a 25-foot sailboat might have a 4-foot or 5-foot draft, because of the length of their rudders and centerboards or swing keels.
Blake used to have a saliboat, before moving here. 
"If it was here it would be sitting on the bottom right now," he said. It was a wing-keeled boat which drew about 5 feet. "We ... decided this was not a place for sailboats," he said, between the draft and the difficulty of navigating with a mast.
Now he has a trawler.
Resident Jim Potochick and his wife Danette used to have a boat that drafted 4 feet. It was tough to get a boat with that kind of draft through the northernmost cut leading into the C-Section from the Intracoastal.
"We may have dug up a little sand once in a while," he said.
They got rid of that boat got one that drafts about 2 or 3 feet.
Resident Dan Bryant sails: On a 43-foot ketch that's been in his family for 37 years, he sailed Chesapeake Bay, sailed up to Maine, then sailed it down to Palm Coast in the summer of 2020.
His boat draws 6 feet. He had the area around his dock dug out to accommodate it, and needs to be in by about two hours before low tide. He said the canals — areas of them, at least — need attention.
"I think there are probably a lot of cost effective ways to do this," he said. "But if we start to do it like we're building the Panama Canal, we might be making a false step."
When Mark Lewis was looking for a place to live, he wanted one where he could keep his boat and have water access. He'd looked at the town of Rockledge, on the Indian River Lagoon, but was concerned that the town canal system's connection to the Intracoastal seemed to be silting in, and there didn't see to be a plan to fix it, he said.
So he ended up in Palm Coast.
He's concerned that the same problem will happen here, affecting boaters' ability to navigate to the ICW and, therefore, the value of the waterfront property.
Palm Coast maintains its other amenities, he said, and should maintain this one.
"The only amenity really that's not being maintained — and it's the first amenity — is the saltwater canals," he said. "As the canals continue to deteriorate and they silt up, the value of this amenity deteriorates. ... I think some money needs to be put aside, and I think areas on an annual basis need to be cleaned up."