A loud explosion. A 28-acre building shaking. Smoke flooding the passageways.
That is how Plantation Bay resident William Toti remembers the impact of American Airlines Flight 77 crashing inside the Pentagon the morning of Sept. 11, 2001. 
"It was kind of a remarkable moment because you realize first that you're alive — 'I'm not dead' — and that's kind of joyous, but at the same moment you realize a whole bunch of other people have just been killed," Toti recalled. "It was a really bizarre feeling, mixture of emotions. It didn't last but a few seconds, because then I started running towards the point of impact."
A 9/11 survivor, Toti will appear in a History Channel documentary titled, "9/11: The Pentagon." It will air at 9 p.m. on Friday, Sept. 11, the 19th anniversary of the terrorist attack.
The retired U.S. Navy captain worked in Admiral William Fallon's office in the Department of Defense building, in the fourth floor of the Pentagon, and like every other day, they had CNN on to keep track of what was going on in the world. He had just watched the two planes hit the World Trade Center, and the Navy Command Center soon informed their office that a third plane had been hijacked and looked to be heading toward the White House. 
Toti, a former pilot, knew the White House would be too hard to spot from the air for such an attack. Like the World Trade Center, he knew Pentagon had thousands of people inside — 20,000 in fact, many of them civilians. 
"I said out loud, 'It's coming for us,'" Toti said. His conclusion frightened the office secretary, and Toti was immediately sorry he'd said it.
About two minutes later, the plane struck.
Helping the injured
After the second tower was hit by United Airlines Flight 175 in New York, back in Arlington, Virginia, Toti called his wife, Karen. She wasn't home; she had been working out at the gym. But he left a message on their answering machine telling her to take the kids out of school and stay home until he called again. 
It would be almost four hours until she heard back from Toti again. 
After the crash, Toti and two other Navy officers ran through the smoke in the passageway trying to find people in need of help. They ran until they saw sunlight through the smoke, signaling a hole in the building. They realized they had run through a part of the Pentagon that had been vacated for renovations, and so they turned back.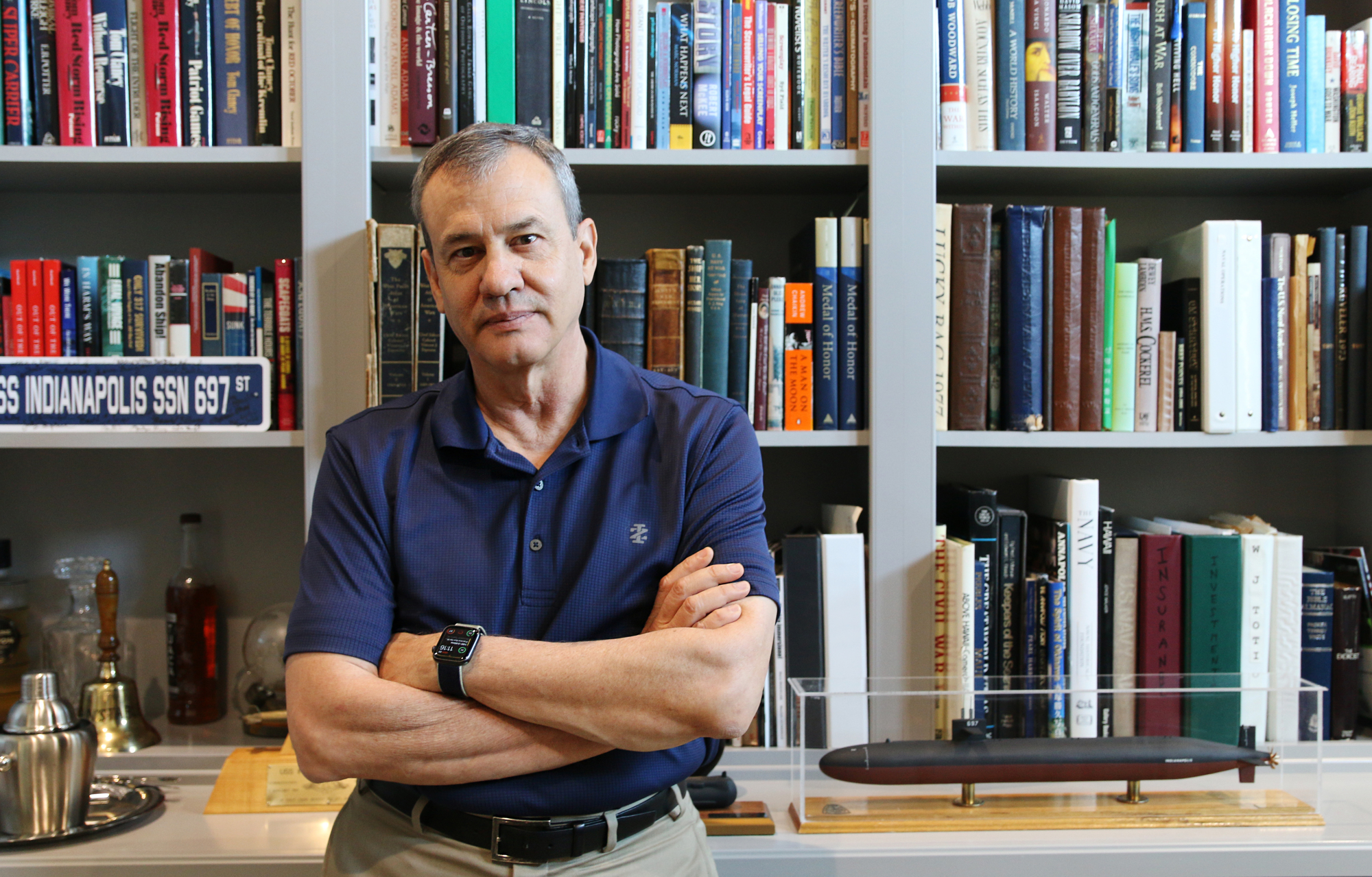 Soon thereafter, Toti exited the Pentagon through the mall entrance, and as they approached the heliport, Toti could see pieces of scrap metal from the plane on the ground. He also came across bodies. 
"It was all-consuming, and I would say for the first 20 minutes or so, the number of injured outweighed the number of us who were there to respond," he said.
He noticed an emergency exit door nearby, and saw that there appeared to be someone stuck inside. He ran in to help, and ended up tripping over a woman because of the amount of smoke inside. He called for help, and the woman was carried outside, so badly burned her skin was coming off in sheets in their hands, Toti said. 
Her name was Antoinette. She mistook him for a doctor and asked him if she was going to die. He told her no, something he struggled with for many years after he heard she died a few days later in the hospital. He dedicated an editorial piece to her, published in the New York Times. 
Homecoming
A total of 125 people were killed inside the Pentagon on 9-11, plus all 64 passengers aboard Flight 77. Toti knew at least a dozen of those that died, including his naval academy classmate Capt. Gerald DeConto and Cmdr. Patrick Dunn, whose wife was pregnant at the time. Both were in the Navy Command Center when the plane crashed. 
Many people woke up that morning thinking they were going to come home that night, Toti said. 
To get home, Toti told his wife over a borrowed cell phone to start driving north on the freeway and that he would walk south to the barrier where they would hopefully find each other. He's tired, filthy and loopy — he declines a ride from a state highway patrolman who sees him walking. The officer follows him in his car. 
At the barrier, he's met by his wife, mother and sister; his kids are in the car too. He remembers hugging them and recalls that he smelled from the smoke.
"I just wanted to get home," Toti said.
There was a lot of tragedy that day, but also great heroism, he added. Over the years, he's told his story maybe half a dozen times, including when he was interviewed for the 2016 PBS documentary "9/11 Inside the Pentagon." He was also interviewed for a six-part documentary series by the Discovery Channel that will air in 2021 for the 20th anniversary of the attacks.
Realizing 19 years have passed, and that there are people joining the Navy today who were born after 9/11 is sobering for Toti. He hopes telling his story will help people remember Americans are stronger together. After the attacks, the country came together in a way he had never seen in his lifetime.
"The country was so unified and speaking with one voice," Toti said. 'There were no Republicans or Democrats — there were Americans, and to see how far we have fallen since then with the country so polarized now, do we really have that short of memory that we don't remember?"