Eight Buccaneers announced their college choices at a National Signing Day ceremony on the morning of Wednesday, Feb. 7, at Mainland High School's media center.
Mainland coach Scott Wilson was among the first to offer congratulations to his now former players.
"I'm appreciative of all of the work that goes behind it and not just from me," he said. "It's amazing to see them come in as such young men and develop into grown men. I'm really looking forward to them going to college and staying in college."
The eight signees include: Brian Jenkins (Alabama A&M), Nathaniel "Tank" Dell (Alabama A&M), James McCloskey (Valdosta State), Adonis Boone (Louisville), D'marcus Adams (Florida State), Colin Ibison (Stetson), Noah Gettman (Sacred Heart) and Raymond Horton (Tennessee State).
Here are some of there stories:
The dynamic duo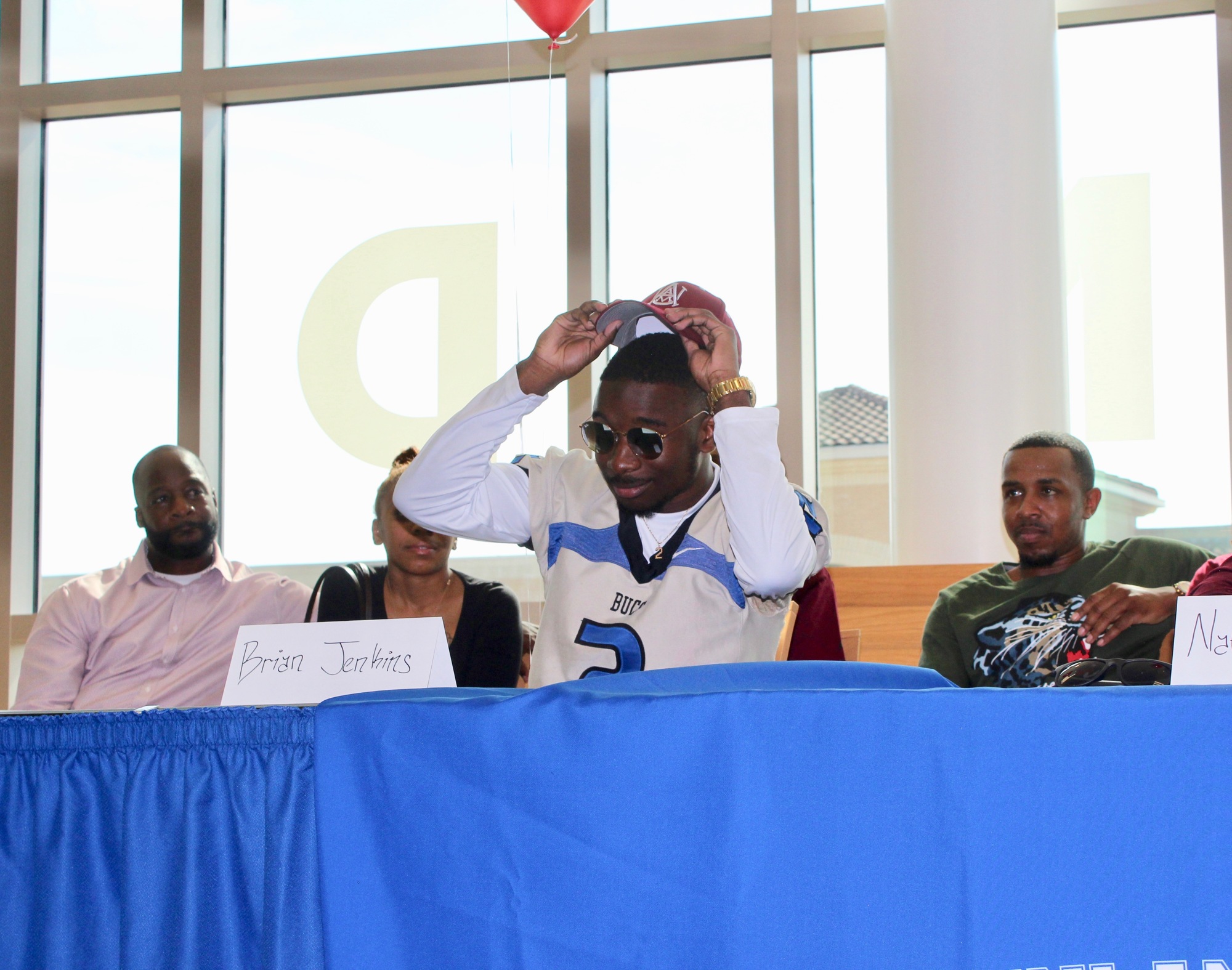 Brian Jenkins and Tank Dell, both standout receivers for the Buccaneers, signed their national letters of intent to play for Alabama A&M in in Huntsville. The Bulldogs are a Division I FCS program and play in the Southwestern Athletic Conference. Jenkins' father, Brian Jenkins Sr., was the head coach at rival Alabama State from 2015 to 2017.
Jenkins and Dell went on an official visit to the school a week ago.
"We went up on the visit and really enjoyed ourselves," Jenkins said. "We both decided that it was the best place for us."
Dell, who recorded 34 catches for 354 yards and seven touchdowns last season, was previously committed to Florida International but backed off his commitment due to "a lack of communication."
The opportunity to play as true freshmen was a big factor in the decision to sign for both recruits.
"They're getting some real football players who know the game," said Jenkins, who had 35 receptions for 302 yards and a touchdown in his last season with the Buccaneers. "It's going to be real lit."
Here comes the Boone
To Adonis Boone — the Buccaneers' quick-footed, athletic 265-pound offensive lineman — the thought of playing football at the college level never really crossed his mind throughout the majority of high school.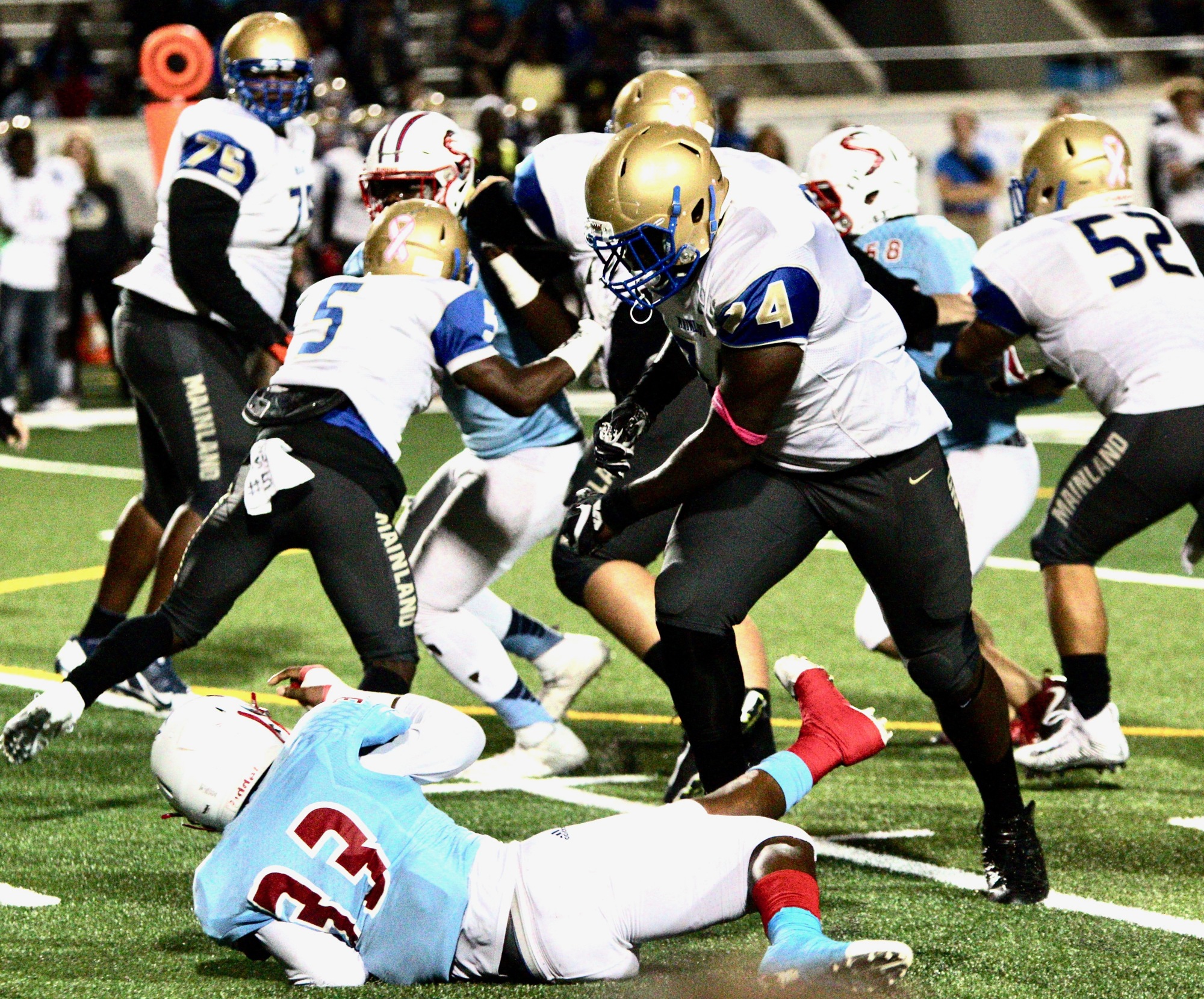 Boone, who transferred from crosstown rival Seabreeze following his freshman season, always thought he'd do something great in his life. He just never realized it would come so soon.
He received his first offer during his junior year.
Since then?
A slew of over 20 Division I offers.
Boone, who signed with Louisville during the December signing period, reaffirmed his desire to play for the Cardinals.
"I came a long way," he said. "Without transferring to Mainland, without these coaches, I wouldn't be the person and player I am today."
Boone looks back on his days practicing against some of college football's most notable players, including Florida Gators defensive end Jachai Polite, one of the top defenders in the Southeastern Conference.
"Getting hit by them every day — it built me," Boone said. "I knew that when I went to the next level, stuff like that wouldn't phase me anymore. I would be able to keep going."
A dream realized
As an eager elementary school kid, Raymond Horton used to be the ball boy during Mainland football games. Running up and down the sidelines watching the Buccaneers play, Horton always dreamed of wearing blue and gold one day.
His dream came true.
Horton was a four-year starter along the offensive line for the Buccaneers. And like Dell, he was originally committed to FIU but decommitted due to lack of communication. He committed to Tennessee State, a Division I FCS program in the Ohio Valley Conference, following an official visit.
"I'm excited that I got this opportunity to go to Tennessee State to play under a great coach like Rod Reed," he said.
"What we're hoping is that everything that they learned here through hard work, discipline, faith and loyalty, that they take it to the next level. And our guys do a pretty darn good job of going and staying because they're so well prepared here that they're going to make it once they get there."

 

Buccaneers coach Scott Wilson