The Turtle Patrol
It was a team effort well before dawn on Monday, Aug. 13, for two locals to work with the Volusia County Turtle Patrol inspecting the beach for turtle nests.
Nesting season runs through Oct. 31, and Flagler County is working with Turtle Patrol to find and relocate any nests that would be impacted by the dunes project as required by the Environmental Protection Agency.
"Turtle Patrol has an ATV in the shop, and they asked if we could help," said Mike Lagasse, land management coordinator, who used the county's Kawasaki Mule to take turtle volunteers Bob and Linda Jaeger up and down the stretch of beach they patrol.
They found a nest, and the eggs were carefully moved to an area where the dunes restoration work is complete.
"It was easy to see the loggerhead turtle tracks from the water's edge to the nest," Lagasse said.
Beach users are reminded to "Dodge the Dunes." People, dogs and horses are all prohibited from walking on the protective dunes.
Also in Your Town:
Matanzas grad earns $50K scholarship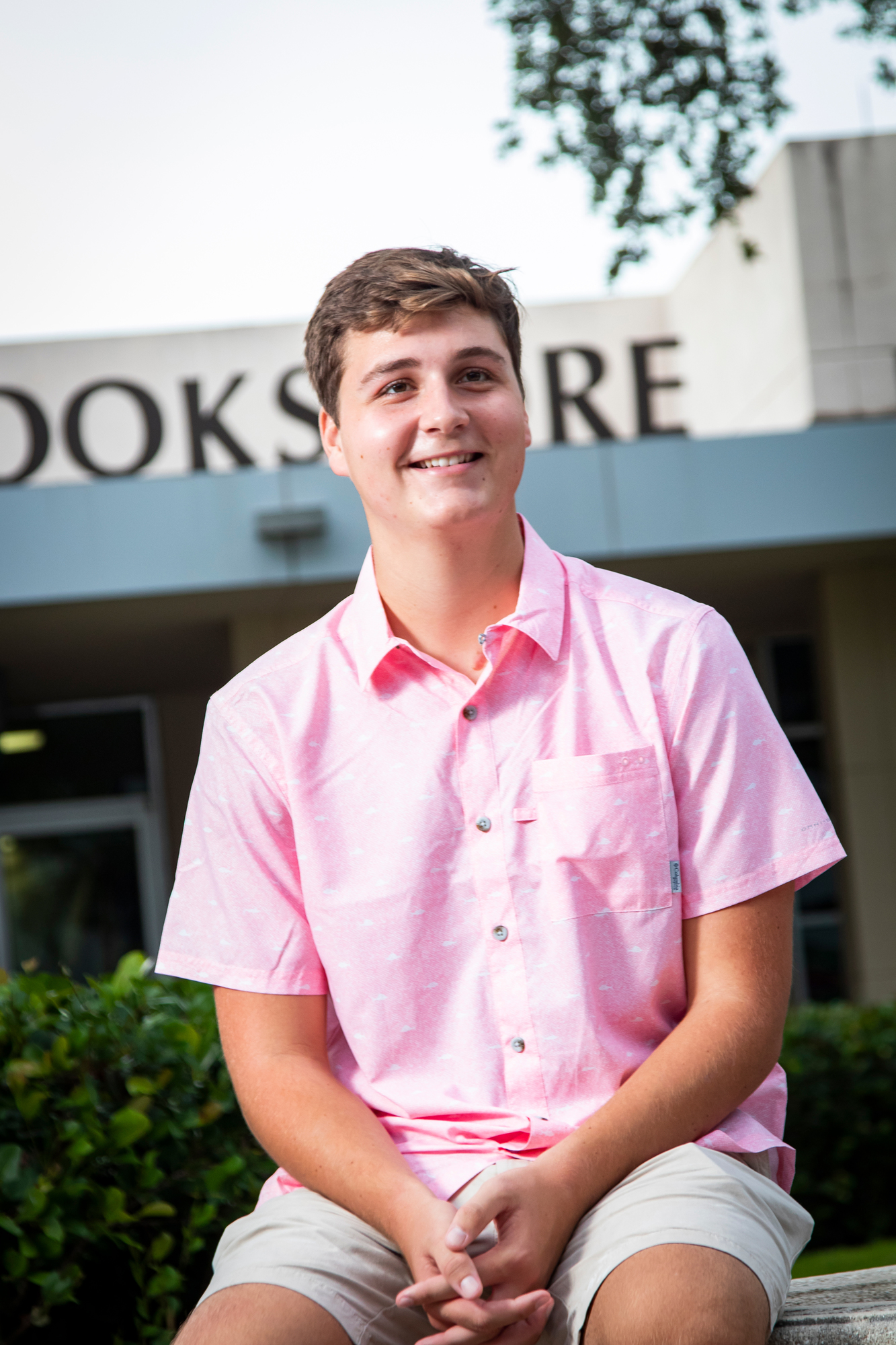 Matanzas High School graduate Connor Manford was with his parents, James and Kim Manford, at orientation at Florida Atlantic University when he got the calling telling him he had been awarded $50,000 ($12,500 per year) in a scholarship.
"We were high-fiving in the parking lot," Connor Manford recalled. "It was a very good moment."
He is among 20 first-generation, low-income students from across Florida to be awarded FAU's Kelly/Strul Emerging Scholars Program. Manford is the only Palm Coast-based awardee.
Manford developed his work ethic at Palm Harbor Golf Club, where he worked as many as 35 hours a week. Along with his parents, his colleague at the course, Tyler Swindle, served as his mentor.
Irma affected United Way fundraising
The United Way of Volusia-Flagler counties raised $2,394,608 through its annual fundraising campaign this past year. The 2017-2018 total shows a 4.6% decrease, or $115,603 from the previous year, according to a news release.
The decrease in campaign can largely be attributed to Hurricane Irma, which hit right as the campaign was kicking off, said United Way of Volusia-Flagler Counties President/CEO Dennis Burns.
The organization was still able to fund all 30 of its partners at levels equal to last year for the second year of the two-year Community Impact cycle, according to the release.
Time to register for Intracoastal Waterway Cleanup
Volunteers are needed to help clean and protect the community's treasured trails, shorelines and waterways. The City of Palm Coast is coordinating the 11th-annual Intracoastal Waterway Cleanup on Saturday, Sept. 8, and it's now time to register to participate. 
The cleanup will begin at 8 a.m. Sept. 8, at the Palm Coast Community Center, 305 Palm Coast Parkway NE, where supplies will be distributed to commence the morning activities. Following the cleanup and trash drop-off, volunteers are invited back to the center for refreshments and a special awards ceremony to recognize those who found the most unique "trash." New this year is Litter Bingo, and there will be many opportunities to win great prizes.
Register online at https://www.palmcoastgov.com/icwc no later than Sept. 5, if possible, to ensure enough event supplies are ordered.
To sponsor the cleanup, contact Intracoastal Waterway Coordinator Denise Bevan at [email protected] or 986-2458.