Residents could see a change in the way they access the beaches in Volusia County if County Council Chair Ed Kelley's planned gets put on the agenda.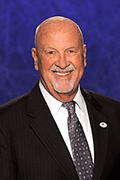 The former Ormond Beach mayor discussed his idea to replace the current toll booths with electronic kiosks and scanners throughout the county — a plan that he says would allow them to open all of Ormond Beach's beach approaches. 
"During Easter weekend, there were four cars in front of me, and it took 22 to get to the beach," he said during the county council meeting May 4. "The toll booth workers had to change attendants and there was no apparent hurry to get anyone on the beach."
Kelley said people who purchase the county's annual beach passes could scan their pass and automatically get in. People who didn't have a pass could purchase a ticket through the kiosk and display it on their car. Anyone who didn't have their ticket displayed would pay a $50 fine. 
"We don't need people in toll booths," Kelley told the Ormond Beach Observer. "It's the 21st century. We could at least get into the 20th century."
He also wants to revisit the free parking available on beachfront parks. 
"Everyone outside the county should pay $10 to park," he said. "We're paying a lot of money for these parks, and we're letting people park for free." 
Kelley said he wants to host a workshop with the other members of the county council to discuss the idea about electronic beach access.